Angela Kane has one of the most unenviable tasks on Earth. Perhaps within days, the evidence that her United Nations disarmament team can collect from a small suburb of Damascus, could be the key to a full-scale Western intervention to remove President Bashar Assad.
The 65-year-old German, who sports serious close-cut dark hair, was pictured on Saturday arriving in Syria wearing a simple polka-dot white t-shirt and pearls, sunglasses slung on a string around her neck.
Along with Swedish scientist Ake Sellstrom, Kane is tasked with gathering evidence as to whether the Assad regime turned lethal chemical weapons on its own people, killing more than 350.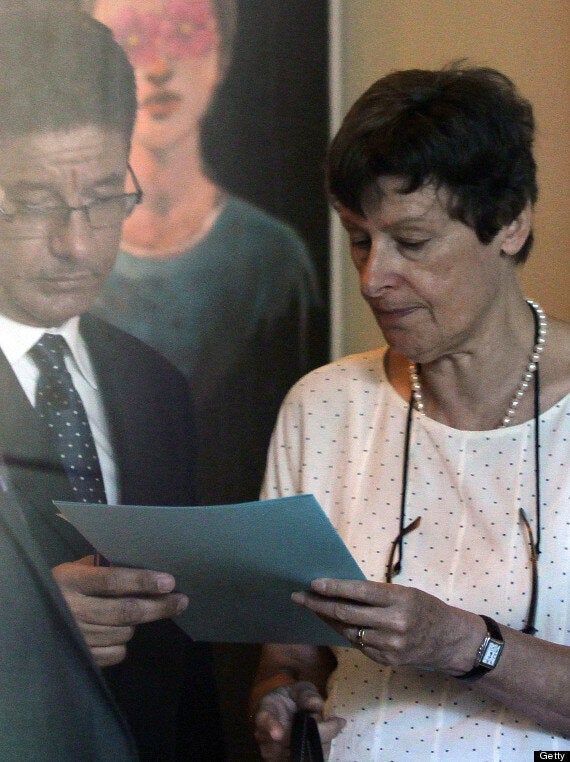 A picture taken from behind a glass door shows Angela Kane (R), the UN high representative for disarmament, reading a document as she arrives a hotel in the Syrian capital Damascus
She is calm in a crisis, and never takes risks, she said in a 2006 interview. "I do feel some fear—that's only natural," she told her alma mater Bryn Mawr's alumni bulletin. "But I guess I'm kind of lucky in that I've always been able to shut out my fear of death or injury in situations like that one.
"I'm not foolhardy, mind you, and I never take unnecessary chances. On the other hand, I do believe there is a certain inevitability about what's going to happen. And I don't think there's anything to be gained by worrying about your safety. Either you get through the situation, or you don't. And so I just turn my back to the danger, whatever it might be. I can't do the work I'm supposed to do if I'm sitting there paralysed with fear.
"I shut it off, that's all—and then I do my best to concentrate fully on the task in front of me."
A career diplomat who has worked for the UN for 36 years since leaving a position at the World Bank in Washington, Kane is relatively low-profile compared to the ubiquitous UN weapons inspector Hans Blix, during the run-up to the Iraq War.
They arrived brandishing Kalashnikovs as they laid out their terms for an end to civil war - long-term job prospects and education for women.
Fluent in English, French, and German, Kane has worked in a diverse number of countries, from Ethiopia, where she assisted on the peace process in 2003, to Thailand, as a field operative charged with calming regional conflict. She was given the role of UN High Commissioner on Disarmament just 18 months ago.
Kane was born in Hamelin, the small Lower Saxony town famous for the Pied Piper fairytale. Kane moved to the United States to study after graduating from the University of Munich, attending the prestigious Bryn Mawr College and Johns Hopkins College.
But she moved swiftly on from administrative responsibilities at the United Nations to political affairs, working for three years as Assistant Secretary-General for Political Affairs, dedicated to the prevention and resolution of conflicts and worked as political officer for former Secretary-General Boutros Boutros-Ghali.
Disarmament has been her main focus for several years, encountering some controversy in the US for an alleged "gun grab" via the UN's Arms Trade Treaty.
Gun enthusiasts said the bill would limit the rights of private gun owners.
"The resulting free-for-all has become a tragedy-for-all. This is not a problem to leave for tomorrow. It is a plight of humanity today. On the average, over a half million people are killed each year - including 66,000 women and girls - and many more injured by armed violence.
"We see some governments using airplanes, tanks and artillery against their own civilians. Some acting as conduits for illicit weapons transfers to points unknown, no questions asked."
Popular in the Community