SEE ALSO: Sex Snap Of Newcastle Couple At It In Public Goes Viral On Twitter (PICTURE)
The internet's fascination with public sex continues (stoked by yours truly), making it inevitable that this snap of a couple getting down to it on a football pitch would swiftly go viral.
The pair were compelled to make the beast with two backs in broad daylight after a goalless draw between Brøndby and Randers in Denmark's top league.
Sadly for them, their lovemaking was cruelly interrupted and they were ordered to put their clothes back on and leave the Copenhagen stadium, the Sydney Morning Herald reported.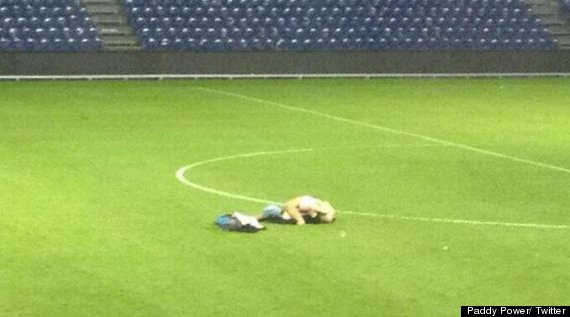 The 0-0 draw inspired this couple to have sex on the pitch shortly after the final whistle
"I do not know who posted the pic," Brondby IF spokesman Mikkel Davidsen told AFP, though he did tweet about it, according to Dead Spin.
"Great match, but crestfallen over the 0-0 and many blown chances. But the couple who after the game banged in the centre circle helps the mood," reads a translation on the site.