Mayor of London Boris Johnson claimed that Hitler did not use chemical weapons during the Second World War, seemingly excluding the several million Jews, homosexuals, Romani people, dissidents and people with disability gassed to death in the Nazi extermination camps.
Speaking about the Syrian crisis on Channel 4's "The Last Leg" on Wednesday, Johnson said: "Not even Hitler used chemical weapons, as far as I can remember," before quickly adding: "Not even Hitler used chemical weapons against allied troops." Johnson said he felt sympathy for Downing Street over their Miliband fury
After the host, Adam Hill, pointed out, "there is an argument to say that he did use chemicals at some point," Johnson backtracked: "But in the theatre of war, as far as I can remember, and I stand to be corrected on this, I don't believe that even the Nazis used chemical weapons."
In a colourful appearance, Johnson described the rejection of government plans for British military intervention in Syria as a "great shame", adding that the country should express a "strong revulsion" for the chemical attack allegedly carried out by the Assad regime in late August.
Proposed British military involvement was scuppered by a dramatic Commons reversal for the coalition and a humiliating defeat for David Cameron last week.
Johnson, an advocate of a second vote on military action should fresh evidence be presented to the Commons, said Britain had been scarred by its experience during the Iraq War (2003), but was quick to single out Labour leader Ed Miliband for criticism.
In a story exclusively revealed by the HuffPost UK, Miliband opted to vote against the Government, sinking Cameron's plans to allow British forces to join a French and American coalition against Assad.
"There's no question that we were deceived about what was at stake there [in Iraq] and people don't want to get engaged again in that way," said Johnson. "It is a great, great shame that when somebody is killing large numbers of innocent people with gas, men, women and children, it is a great shame that a country like ours that stands for civilised and decent values around the world cannot do anything.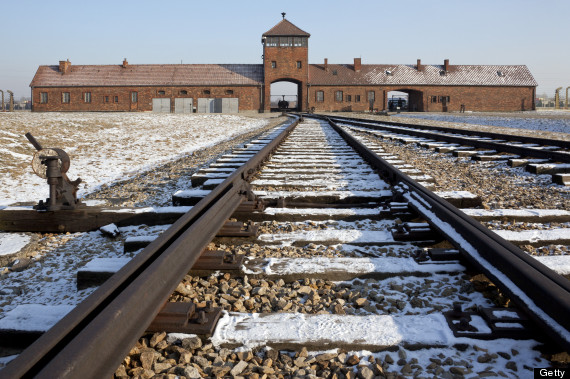 The track into Auschwitz, part of a network of Nazi extermination camps
"I have to say, whatever your views about intervention, we should be able to assert our strong, strong revulsion and to make that clear to Assad."
Johnson told the show he was sympathetic to the Downing Street spokesperson, who reportedly referred to Miliband as a "f****** c***" and a "copper-bottomed s***" over his intransigence, despite the prime minister offering the Opposition leader several concessions, including a second parliamentary ballot.
Johnson said: "The question was would the Leader of the Opposition stick by what he had earlier said. I think he had indicated that he would contemplate the possibility of some calibrated, commensurate strike against the Assad regime and then he pulled the plug on it."
"Clearly that's left this country in a position where, whatever happens, it looks as though we won't be involved. I can see why some unnamed Downing Street person did use that language because I would have been thoroughly hacked off too. They were led to believe that he would in principle support something that he didn't."
On the use of chemical weapons, Johnson said: "They are banned. As far as I am aware they are banned and they have been and the use of chemical weapons has been under international law since after the First World War.