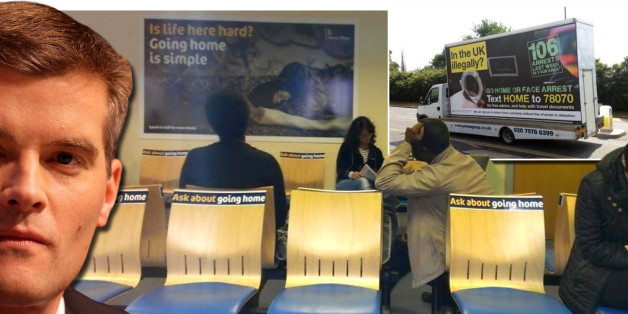 Matthew Butcher/PA
The government's immigration minister has launched a ferocious defence of the controversial 'Go Home' van campaign.
Mark Harper said illegal immigrants were "taking the Mickey out of everyone else" by being in the UK.
The Tory minister also stood by a poster campaign in Scotland, showing a homeless person with the caption: "Is life here hard? Going home is simple".
Scottish MPs attack "shameful" poster campaign
Ministers have been boosted by opinion polls showing the public support the confrontational billboard campaign, which was dubbed the '#racistvan' on Twitter.
However, people are sceptical about whether it will work.
Campaigners and charities attacked the van, with its slogan 'In the UK illegally? Go home or face arrest'.
It was dubbed "stupid and offensive" by Lib Dem business secretary Vince Cable, and questioned by Deputy Prime Minister Nick Clegg.
As he faced questions in Parliament on Wednesday, Harper was asked by SNP MP Pete Wishart to promise that the "xenophobic, go home vans" would not come to Scotland, and to remove the "disgraceful" posters showing the homeless person from the UKBA office in Glasgow.
He replied: "Asking people who have no right to be in the UK, who are here unlawfully, taking the Mickey out of everyone else, asking them to go home as they should do, rather than forcing the taxpayer to spend up to £15,000 on arresting, detaining, and forcing their removal, is a very sensible thing to do and I am not going to apologise for it."
A spokesman for the Migrants' Rights Network said: "It's obvious that the Minister is keen to enforce more removals and not fall behind on his targets, but driving a van around London won't help in fixing a broken immigration system.
"It is ironic he says people are "taking the Mickey", when his own agency is drowning in backlogs, putting individuals' lives on hold while they wait to hear back on their application."