UPDATE: English Defence League leader Tommy Robinson was arrested in London on the controversial march that was prevented from going through the centre of one of Britain's biggest Muslim communities.
Leaders of the Muslim community in East London have held a demonstration to protest a nearby march by the English Defence League (EDL) at Tower Bridge.
According to Scotland Yard, two arrests have been made - one for possession of a pointed blade and another of someone who was in possession of a firework. It is not know whether the men arrested were part of the EDL or one of the counter demonstrations.
The EDL lost a high court battle on Friday after police prohibited a much larger gathering in borough of Tower Hamlets, which the far right group has alleged is now subject to Sharia law.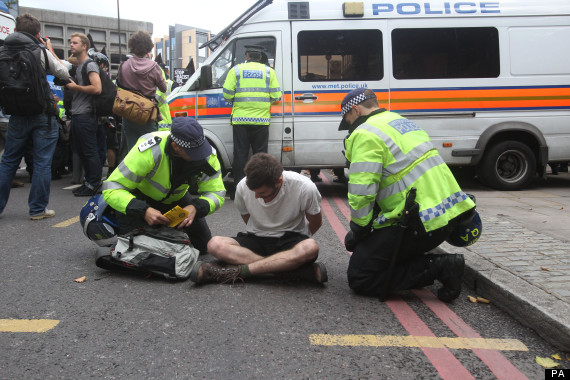 Police detain a man as the English Defence League march in east London
Thousand of people gathered at Altab Ali Park in Aldgate East after morning prayers, flanked by a heavy police presence. One attendee to the Press Association they were there to show they "can not live with hatred".
On the outskirts of Tower Hamlets, members of the EDL held a restricted march, closely monitored by officers from the Met. The group's original plan had been to walk straight through the borough, however the High Court upheld the police's decision to ban the protest out of concern it would spark violence.
John Biggs, who sits on the London Assembly for Labour and Lutfur Rahmen, the mayor of Tower Hamlets, were among the campaigners at the park.
"We just want to get on with our normal lives," said Rahmen, adding: "We are celebrating peace and tranquillity. We are not espousing violence. The people who want to talk about violence and inflict violence and hate on others can just go back to their nests and their holes. We are a united community and we are a diverse community. Young people are not coming out today because they are frightened."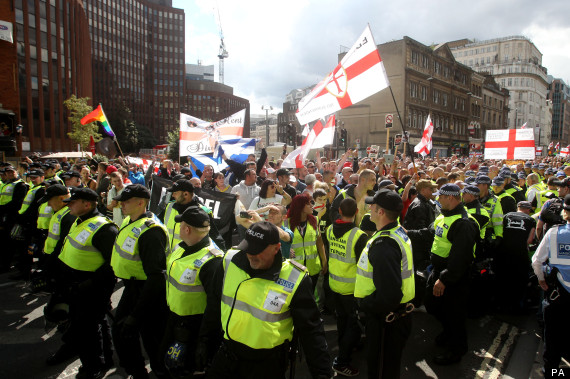 Police struggle to hold back the EDL march near Tower Bridge
The mayor excoriated the EDL and their extreme views for "unsettling" the community. "They propagate fear and insecurity and hatred - we can not accept that extreme minority view," he said.
Biggs was equally condemnatory, questioning why the EDL march had not been completely banned.
He said: "Tower Hamlets is a vibrant and diverse borough which I am proud to call home. Like many other areas of our country, there are problems such as unemployment and poverty but the EDL blame "others" for our country's problems in an attempt to divide us".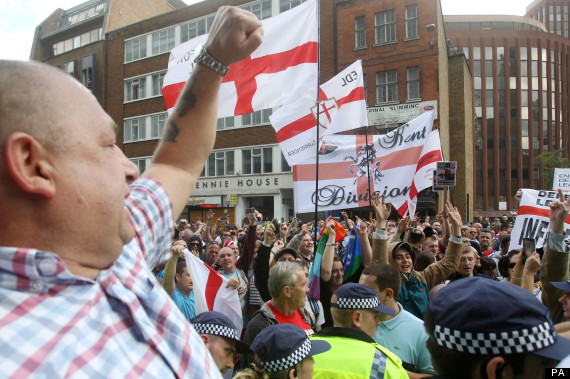 The EDL march went ahead despite the High Court ruling
More from the Press Association:
ELM assistant executive director Shaynul Khan said the announcement of the EDL march had shot " a feeling of fear" among the community. Many people, including local traders who would normally be working on a busy Saturday in the current economic climate, had "preferred to stay at home rather than risk anything happening" to them, he claimed.
Khan said: " It is not the right place to have this kind of demonstration. Any location which has had an EDL demonstration in the past has always seen it descend in to some level of violence or vandalism - whether it is bricks going through a window or the public being attacked.
"There is a strong feeling from the vulnerable, particularly from those who are easily identifiable because of their religious dress, that if the English Defence League are here then they are not safe. I am sure that with that come a large sense of fear."
I know people are angry and frustrated about yesterday's decision but today must pass off peacefully. Police on the street are not our enemy

— Tommy Robinson EDL (@EDLTrobinson) September 7, 2013
EDL leaders had wanted to rally in an area in Tower Hamlets which they say is ''subject to Sharia law'', but Judge Mr Justice King on Friday ruled that a police decision to impose restrictions over fears of ''serious public disorder'' was reasonable and proportionate.
Police said the route of the march - which must take place between midday and 3pm - will include Queen Elizabeth Street, Tower Bridge Road, Tower Bridge Approach, The Minories and then into Aldgate High Street. Organisers have been told they must not to go beyond the junction with Mansell Street.
Scotland Yard said senior officers had decided to stop the march a third of a mile short of its intended destination in the hope of preventing ''serious'' disorder.
(Article continues after the gallery)
Police lawyers told the High Court hearing that people taking part in EDL marches could be ''unreasonably'' provocative. They said between 1,000 and 2,000 people would take part in the EDL march and ''several thousand'' in counter demonstrations by groups including Unite Against Fascism.
Ahead of the march, a message on the EDL website declared: "We're returning to Tower Hamlets! Our reasons haven't changed and neither has our commitment to peaceful protest. Only by working with the police can we make the return to Tower Hamlets a success and get our voices heard."