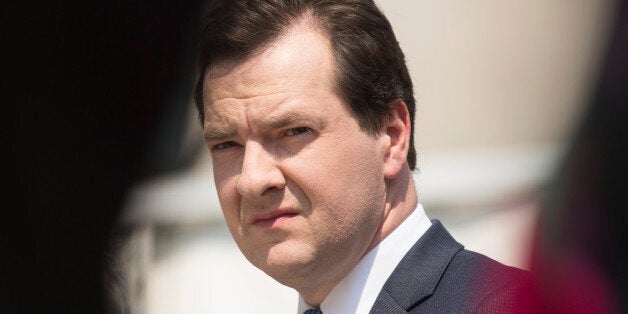 George Osborne is presiding over the "worst and slowest recovery from a major economic shock in 170 years", leading economists have warned.
"Until 2008 the UK had got used to our economy doubling in size every 25 years: unless action is taken it will now only double in size every 70 years," the economists said.
UK GDP dropped 6.3% from its peak in 2008 and is still around 3% lower currently. The economists warn that such a financial state indicates that "five years on from the financial crisis we have still only recovered half the loss to national income which occurred in the immediate aftermath".
In their paper, titled "Will flat-lining become normal?", the group attribute the UK's sluggish growth to an increase in government spending and taxation, depleting North Sea oil reserves and increased pressure on the nation's balance sheet from an ageing population.
They also blame greater regulation of energy and financial services and the effect of unskilled "low-productivity workers being added to the working population".
The group of economists includes Lloyds Bank chief economist Trevor Williams, Economic Perspectives director Peter Warburton and UKIP candidate Tim Congdon, an economist who served as one of the Treasury's independent economic forecasters, dubbed 'wise men', from 1992 to 1997.
The economists call for "bold" reforms in order to set the UK on a path to enjoy growth rates of over 2%, including the rolling back of government activity and influence; the regeneration of affordable credit channels to unencumbered households and businesses; and the implementation of radical supply-side measures.
Professor Philip Booth, editorial director at the Institute of Economic Affairs, said: "People shouldn't get too excited about better growth figures and recent forecasts from groups such as the OECD. We still have a long way to go before we recover the loss of output from the 2008 crash. Furthermore, the medium-term prospects for growth do not look healthy unless the government determinedly reduces government spending and regulation."
"The recovery since the financial crash has been the weakest in industrial history. Many of the government's critics wish to solve the UK's growth problem by increasing government spending and borrowing. This research shows that Britain's growth problem is a productivity problem and not a problem caused by insufficient government borrowing. The government should take note. The solutions lie in its hands."