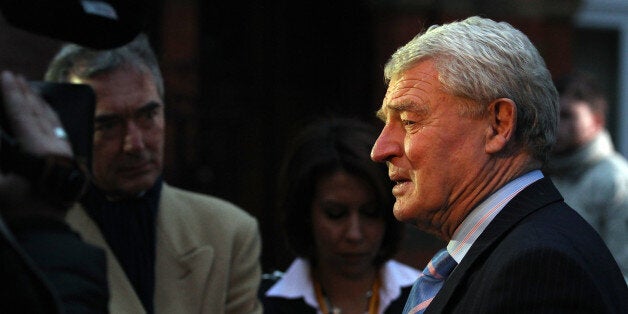 Lord Ashdown has warned Liberal Democrats they would be "completely crazy" to pull out of the coalition before the general election, praised Nick Clegg as an "outstanding" political figure who deserves to be prime minister and said the outcome of the next election is "delicious" in its unpredictability.
The former Lib Dem leader issued the warning in an interview with The Huffington Post UK ahead of the party's annual conference in Glasgow which got underway today.
A series of polls in the run-up to the meeting of MPs, peers and activists have, as usual, made grim reading for Clegg and he and other senior Lib Dems will be hoping to reassure the party faithful that they are not heading for a meltdown in 2015.
Some Lib Dems, including former Treasury spokesman and serial Clegg critic Lord Oakeshott, have urged the party to ditch the alliance with the Tories "sixth months to a year" before going to the polls.
However Ashdown said that was a "completely crazy idea". He added: "I don't know any Lib Dems whom I have respect for who are proposing such a thing."
"First of all you are at the wheel of a ship that is passing through the storm. You can't say 'excuse me, I want to hop off' - it's the craziest idea I have heard in my life.
"We will we be judged on how well we governed. We will carry this through right through to polling day. I am pretty confident it will be judged in our favour."
He added: "You have to go until the close of polls and then be judged on how you have done."
Ashdown, who was put in charge of coordinating the party's 2015 election strategy at last year's conference and is a popular figure among the grassroots, also dismissed the current opinion polls.
"Tough decisions have to be taken, it's the mid-term of a parliament, you just faced the deepest economic crisis the country's seen, of course people aren't going to be happy," he said. "When it comes to the election I think they [voters] will be pretty somber, pretty serious about the future ."
"I think the Lib Dems have got a huge amount to say. Our message is tremendously simple. Our message is we are the only party that combine a fair society with a strong economy and the Liberal belief of empowering people to make their own decisions about their life."
Ashdown put the coalition's success rate at "70-75% of what I expected" and praised Clegg as an "outstanding political figure" who he was "devoted to".
Despite Clegg's low personal ratings, the Lib Dem peer said he would make "a better prime minister than either Mr Miliband or Mr Cameron". And Ashdown said when it comes to the election "people will begin to recognise his strength as a part of the British political system". Nick Clegg will use the conference to emphasise differences with David Cameron
The deputy prime minister heads into the conference season pretty secure in his position, despite the rather flat polling figures. However Lord Oakeshott, an ally of Vince Cable, has urged the party to replace their leader. The former party Treasury spokesman told The House magazine last week that his fell Lib Dems needed to "face facts" and look at the numbers.
Speaking to HuffPost UK Ashdown dismissed the attack on Clegg as predictable and harshly slapped down his colleague in the House of Lords. "I saw a wonderful tweet today on the subject, which says 'in autumn the leaves fall, the swallows leave and Matthew Oakeshott flaps in squawking from cloud-cuckoo land'," he said.
Attacking Oakeshott's commitment to the party, or lack thereof, during the recent by-election campaign in Eastleigh, Ashdown observed: "He's must have been the only party member who didn't man the phones over Eastleigh."
"Matthew will say these things; it's his way of getting a bit of attention to himself from time to time. He's a formidable debater and a very smart guy in a one liner, but the best one liner I heard is the tweet."
Oakeshott's words are often scrutinised to see if they convey a message from Cable, although the business secretary moved quickly to distance himself from his friend's attack on Clegg.
Asked whether Cable needed to rein in Oakeshott, Ashdown said: "Vince will do what Vince wants to do, it's up to him decide. I think Matthew's self appointed position as a sort of vicar on Earth for Vince does neither of them any good ... but that's Vince's problem."
Another senior Lib Dem who is unhappy with Clegg's leadership is former education minister Sarah Teather. The Brent East MP announced she would be stepping down from parliament in 2015 after becoming "catastrophically depressed" at the direction the party was heading in. Sarah Teather will quit parliament in 2015 in protest at Nick Clegg's leadership
Ashdown praised Teather, but cautioned her against throwing bombs at the party now she had decided to leave the Commons.
"I love Sarah to bits, I think she is a wonderful lady a remarkable figure, a doughty fighter, who I always have affection for and always will," he said.
"My own personal view of resignation is you should recognise it is the first day of the rest of your life and you should do it without hurting your colleagues. But if you want to say things afterwards that's fine.
He added: "Would I prefer to have her with us and active? The answers to that is yes and I'm sure she will be when the time comes."
As the polls narrow pundits increasingly point to the outcome of the next election being another hung parliament. Such a result could return Clegg as deputy prime minister in another coalition with David Cameron. Or it could see the party lured into a coalition, under a different leader, with Ed Miliband and Labour.
Asked what the Lib Dems would do should it be numerically possible for the party to form a coalition with either Tories or Labour, Ashdown refused to be drawn on which deal he favoured.
"I think we will do what we always done, we will look at whom the British public have given the mandate to rule and who we can work and have partnership with in the best interest of the country," he said.
"The public makes the judgment, I may have my likes and my dislikes, but I obey the sovereign judgment of the British people speaking through the ballot box," he added.
The veteran politician also rejected the assumption that a hung parliament was the most likely outcome. "How do you know it will be the situation?" he said. "It's a pretty unpredictable electoral system especially with a fourth party now involved."
Addressing the threat of Ukip, he said: "With the vagarious of our electoral system you could always be in the position that precise electoral percentage does not reflect on seats. There is a degree of delicious unpredictability with a fourth party in there getting some votes."
However he said he did not think Nigel Farage's insurgent eurosceptics would get "anything like" as much support as they currently appear to have.