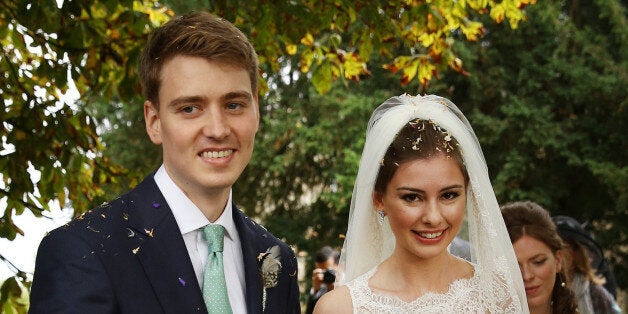 Euan Blair, former Prime Minister Tony Blair's son, is set to marry 25-year-old Suzanne Ashman today in what is expected to be an exceptionally lavish ceremony.
Taking place at South Pavilion, a £5.75 million Grade I-listed mansion in the lush Buckinghamshire countryside, the plush event is sure to draw a-list stars and the political elite alike.
Euan, 29, will marry his girlfriend of eight years, Suzanne Ashman, who were introduced to each other by former defence secretary Geoff Hoon, in a closely guarded extravaganza behind marquees set up in the grounds in Wotton Underwood.
The former Prime Minister and his wife Cherie are understood to be planning a spectacular party for the couple, who bought a house together in Islington at the end of last year and got engaged over Christmas.
The guest list is being protected as tightly as a government report, but there have reportedly been several tiffs over who has and has not been invited.
According to The Telegraph Yitzchak Schochet, rabbi of Lord Levy, Tony Blair's old friend and former fundraiser, has confirmed he will be among those unable to attend as the event will be held on the holiest day of the year for Jewish people.
"Lord Levy, along with Mr Blair's other Jewish friends, will have to celebrate with him and his son on another occasion," the rabbi told the Telegraph.
Out of all the Blairs - who are estimated to be worth more than £60 million - Euan is the eldest of the four children, and the first of them to marry.
Miss Ashman's parents are divorced and her entrepreneur father John Ashman has married weathergirl Sian Lloyd.
Popular in the Community