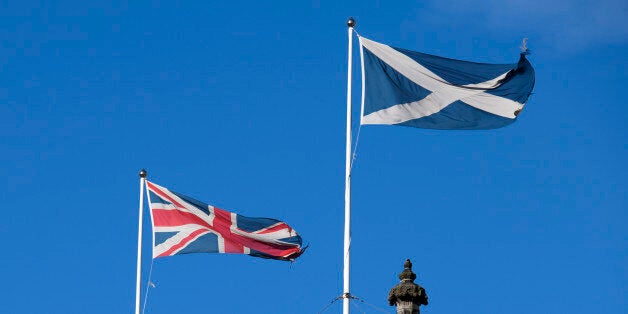 With 12 months still to go before Scots go to the polls to give their verdict on full independence, tensions are already running at fever pitch, with both campaigners counting on their launches of grassroots volunteers to persuade voters.
Polls fail to show an overall majority in favour of independence, putting support for it at between 25% and 37%.
Two surveys suggest there will be a victory for the Better Together campaign, but that undecided voters could narrow the gap.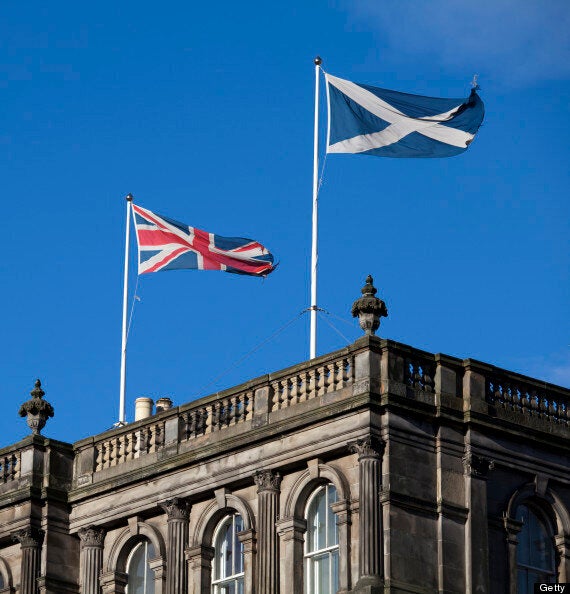 The referendum will take place on Thursday 18 September 2014
Support for independence stands at 37% while backing for the union is 47%, according to a Panelbase survey of 1,002 adults
The poll, commissioned by The Sunday Times and Real Radio Scotland, suggests 16% are undecided.
One poll by Panelbase, commissioned by the Scottish National Party (SNP), found that among those certain to vote in the referendum, 44% will choose Yes and 43% will choose No.
"This is going to be a real rollercoaster for both sides I think over the next 12 months," says Blair Jenkins, chief executive of pro-independence campaign Yes Scotland.
United With Labour, the Scottish Labour party's campaign to keep Scotland in the UK, says it has contacted 500,000 voters.
Both Yes Scotland and its pro-Union rival Better Together, a cross-party group led by former chancellor Alistair Darling, say they have both formed networks of local groups.
Jenkins says: "We're really happy with what we've managed to achieve in the first year of Yes Scotland. Our priority has been to make sure we have the biggest and best grassroots campaign Scotland has ever seen, and that's what we've achieved and that will become ever more apparent as we move closer towards the referendum next year.
"So we now have hundreds of local groups around the country, hundreds of events taking place every week and every month, we have a level of activism and visibility that is far greater than anything the No campaign can put out. So we're very happy with that part of it."
Better Together campaign director Blair McDougall says that, in some ways, those who support the Union are "where we were before we started the campaign" and that a majority of people are still "unconvinced of the case for independence and believing we are stronger sharing risks and rewards and resources as part of a bigger United Kingdom".
Jenkins says he expects poll results to change "because this is such a unique electoral event, because people's voting intentions, even at this early stage, are not necessarily in line with their party political preference or even their social background".
He says: "This is a one-off event. I think people are finding it quite hard to predict the course of events."
A separate poll conducted by ICM for the Scotland on Sunday newspaper gave the No camp a stronger lead.
It puts support for independence at 32% and support for the union at 49%, while 19% do not know.
Among people certain to vote, support for independence is 40% compared to 60% backing the union.
But the lead narrows to just 10 points when people are asked to assume a No vote would not guarantee extra devolved powers for Holyrood.
As well as being divided about Scotland's future, those campaigning for and against independence are also divided on who should argue their respective case in any televised debates.
The TV showpiece has become a key feature in recent election campaigns, bringing the issues into people's living rooms.
But those campaigning to remain in the UK point out that the Tory leader does not have a vote in next year's referendum and insist that any TV clash should be between politicians in Scotland.
Cameron has said any TV debate between him and the first minister would be "rather phoney".
Also being debated is whether independence will bring economic prosperity to Scotland.
First minister Alex Salmond and the Scottish National Party administration at Holyrood argue that independence, and the economic powers it will bring, will transform Scotland, making it more prosperous and a better place for people to live.
"It is better for all of us if decisions about Scotland's future are taken by those who care most about Scotland: the people who choose to live and work in this country," Salmond insists.
Speaking earlier this month, the SNP leader said that is "the simple but compelling truth at the heart of the case for independence".
Blair McDougall, campaign director for the pro-Union Better Together campaign, argues that being in the UK means people in Scotland "get the best of both worlds with a strong Scottish Parliament and the back-up of being something bigger".
The "distinctiveness" of the Scottish Parliament, which legislates on key issues such as health, education and justice, is "underpinned by being part of something bigger", he says.
Anas Sarwar, Scottish Labour's deputy leader and referendum co-ordinator, highlights the importance of "social change and creating opportunity".
Campaigners in his party "didn't come into politics to draw a line on the map, or to argue about which politician has which powers in which building", he says.
"All of us came into politics because we recognise that we want to change the way society is run, to change and improve the life chances of people right across the country, whether they live in Birmingham, Manchester, London, Liverpool, Glasgow, Edinburgh, Aberdeen," according to Sarwar.
"That's why our case is based on recognising its about social change and creating opportunity. That's genuine Labour territory, not SNP territory. Social justice, the principles of community fairness, equality and solidarity are the founding principles of our party and they are the principles we campaign every day for whether we are in a referendum or not.
"There is a genuine frustration amongst all of us that there doesn't seem to be any plan, any detail, any clarity on this huge monumental decision, once-in-a-lifetime decision. There doesn't seem to be the right facts, the right information, the honesty that people quite rightly deserve in that debate."
Scottish Secretary Michael Moore claims that the case for independence is "based on assertions and uncertainty" and that the Nationalists "say things will be the same or better under independence but there is either no detail or it is based on the assumption the rest of the UK or EU or Nato will accept everything they are asking for".
He says: "The reality is that separation means massive change. However much they try to change the packaging, the basic product remains the same. What is clear to me is that a vote for independence is an irreversible decision and I will be campaigning hard to stay within one of the world's most successful union of nations."
In contrast Blair Jenkins, chief executive of pro-independence campaign group Yes Scotland, argues that leaving the UK would create a country that combines "a strong element of social justice and social cohesion with a thriving economy".
He says: "That's what an independent Scotland would be able to do."
Jenkins stresses the importance of the economy, arguing that once voters are convinced that Scotland is financially strong enough to go it alone, they then start to consider what kind of country it could be.
"It seems that once people have satisfied themselves that the Scottish economy is resilient, that Scotland has got what it takes to be a prosperous, independent country, that opens them up to think about the things that are important in life to them."
The UK has "has travelled towards being one of the most unequal societies in the developed world over the last 30 years, under successive Westminster governments", he says.
"Scotland could do better and would do better in all sorts of areas. Scotland left to make its own choices and live by its own values would do things differently from the way the UK has been doing things for years now.
"It's almost if you can give people the confidence that the economy will be okay, that the prosperity is secure, then that is what frees them up to get excited about what an independent Scotland could be."
Jenkins emphasises that the "prosperity of Scotland, the fact that we could be and would be a very prosperous country, is one of the pillars of the campaign", he says independence would bring about an "improvement to democracy, whereby we will actually get the kind of policies and values implemented that matter to people in Scotland".
Issues such as the so-called bedroom tax send a "wider message that Westminster isn't working for Scotland", but McDougall dismisses fears that voters will favour independence as a means of getting rid of the Conservative-led Government in Westminster.
The Better Together campaign director insists: "People understand this is bigger than a passing government. Also, the basis of our argument is we have the best of both worlds, so we do make decisions here in Scotland on things like health, on education, on transport, on justice and policing.
"We have a really strong voice here in Scotland but we can have that without losing the back-up of being part of something bigger, the back-up of being part of the one of the biggest economies in the world."
With the Scottish Government due to publish its case for independence in a white paper this autumn, McDougall says there is a "a really big moment coming up" in the campaign.
"I think the other side will think that's the end of the discussion on detail," he says.
"We think its just the beginning. We think that's where the job starts for our campaign but, also, it's the start of the Scottish people asking questions about the proposition that their Government is putting forward."