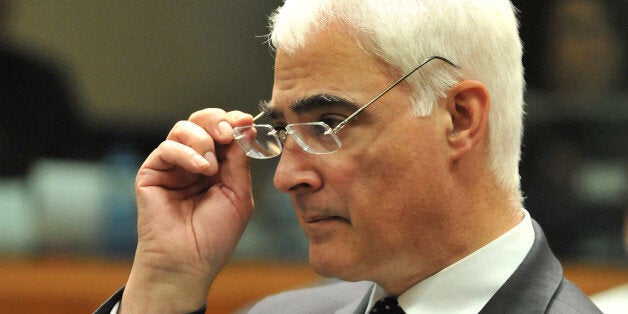 The unpopularity of the Conservative-led government in Westminster will not damage the anti-Scottish independence cause, Alistair Darling has insisted.
David Cameron's Conservative Party is not especially popular in Scotland and only has one MP, leading to concerns Scottish voters could embrace independence as a way of distancing themselves from the Westminster coalition.
But the former Labour chancellor, who now heads the cross-party pro-union 'Better Together' campaign, said the referendum was "far bigger" than the usual to-and-fro of national politics.
Speaking to The Huffington Post UK to mark the one year countdown to polling day on September 18, 2014, Darling said the Scottish electorate voted very differently at depending on the type of elections.
"I think the electorate distinguish between a general election when they are voting in the next government and can kick them out after five years and referendum where it's once in lifetime opportunity," he said.
"Were we to vote for independence there is no going back, the nationalists only have to win by one vote and we are on our way to an uncertain destination."
Darling said the referendum scheduled by Scotland's SNP first minister Alex Salmond was such a defining issue that voters would not be swayed by "the unpopularity or popularity of a Westminster government or whether growth has returned or hasn't returned". He added: "This is a fundamentally different question."
Almost all of the recent polls point towards a defeat for the independence campaign. However Darling insisted there was still "all to play for" as the campaigns started to ratchet up the arguments with one year to go.
"The headline polls clearly show opinion in Scotland hasn't shifted much in the last five or six years and a majority don't support independence," he said."However beneath those polls there are a lot of people who are still to make up their minds."
"I think it will be closer than you think. We would be very complacent if we called the result on opinion polls today."
Darling predicted that now the "finishing post" is within sight Scottish voters will start to devote more time to thinking about the referendum than they have done up until now. And the campaigns themselves are likely to start ramping up the rhetoric.
"You can't run a campaign full of razzmatazz for two years. As we get closer to the actual day you'll see interest and excitement building," he said.
Darling is also concerned that the length of the campaign may result in a low turn-out. "The risk for both sides because the nationalists have deliberately made it a long campaign, the risk is people turn off," he says. "Traditionally in this country elections take a month. For most people that's as most of politicians they can take."
However the former chancellor says one advantage of a long campaign is "the more you look at the nationalist argument, on currency for example, the more it falls apart".
Darling spoke HuffPost UK as the five year anniversary of the collapse of RBS approached. "The decisions that brought RBS to its knees were taken in Edinburgh, they weren't taken in London," he said, recalling the events of 2008.
"The same with HBOS, that bank was ruined by decisions taken here. People are very aware of the fact it was the strength of the UK that enabled us to bail those banks out. There is no way we could have afforded to do it. People are very conscious of it."
Five years on from the banking crisis, Cameron and George Osborne have started to sound more confident that the economy is showing signs of recovery and that this has "decisively ended" the debate over whether the coalition's austerity measures were correct.
Darling accepted that the economy did appear to be pick up, but sounded a note of caution."Despite having had very good encouraging figures, it would be very premature to break out the flags and start popping the champagne and say that's it we are through this," he said.
The 'Better Together' campaign is made up of figures from Labour, the Lib Dems and the Conservatives and Darling insisted they all had a "very good working relationship" and that "we haven't had any problems at all".
He said the campaign had become "almost like a party ourselves" and did not have to check with various party headquarters' before saying or doing anything. "It's been absolutely fine. It's grown up politics. If you agree on something you should agree on it. There are plenty of other things to disagree on." Alistair Darling is often mentioned as a replacement for Ed Balls
The 'Better Together' model appears to be one that could be replicated for any cross-party campaign against the UK leaving the European Union. Cameron has pledged to hold an in/out referendum by 2017 and while Darling said he would answer questions about the similarities "on 19 September next year" he did acknowledge they existed.
"The parallel is in some ways we are now having to make for the union that hasn't been made for a long time and when you make that case you do see the parallel arguments," he said.
"The parallel is when we get to the referendum on the EU, those of us who believe its in our best interests to be in the EU need to make that case. For a long time the field has been left to Ukip."
The one year countdown to the referendum also marks the one year to the time Darling will be free to consider other jobs on the front line of politics - and he is often floated as a possible replacement for Ed Balls.
It is a internal Labour spat that Cameron and Osborne enjoy provoking by damning him with faint praise. I've been around long enough time to know what they are doing," Darling said. "I do notice they go out of their way to quote me, I know what they are up to."
With the Labour Party conference due to get underway this weekend, Darling has also said he hoped Ed Miliband and Ed Balls would begin the flesh out Labour's economic policy.
"I am sure they will do," he said. "I've said before the conference is the beginning of the autumn season, that is the time you'd expect them to."
Darling recently told the BBC that the Labour leader and his shadow chancellor needed to "start making it pretty clear to people what would the difference be if you come to a general election".
However whether he has one eye on a return to the front line of Labour politics or not is a question he refuses to answer while at the same time leaving plenty of wriggle room.
"I'm doing the referendum between now and September next year, after that I will decide what I am doing next," he said.