The hugely controversial "bedroom tax" would be abolished under a Labour government, according to the Party ahead of their annual conference, which starts in Brighton next week. Ed Miliband is scheduled to announce the policy's abolition, describing it as a "symbol of an out-of-touch, uncaring Tory government".
In a speech highlighting the "cost of living crisis" affected British families, Miliband will say: "Under David Cameron life is getting harder and harder with prices rising faster than wages in 38 of the 39 months that he has been in Downing Street, and working people are an average of almost £1,500 a year worse off under his Government. But we have a Tory-led Government which listens only to a privileged few. Tax cuts for millionaires and tax breaks for hedge funds."
Branding the "bedroom tax" a product of an administration that "stands up for the privileged few - but never for you," Miliband will set out Labour's plan to abolish the policy, as well as the "shady schemes of tax loopholes for the privileged few which the Tories keep inventing."
The Labour leader will add: "Tax cuts for hedge funds, the billion pound black hole created with a scheme for workers to sell their rights for shares, and by tackling scams which cheat the taxpayer in construction."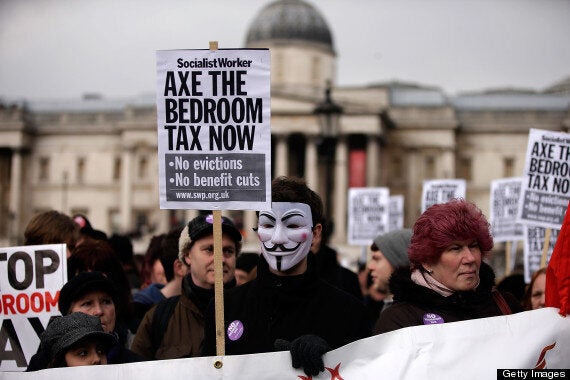 The 'bedroom tax' has proved a hugely unpopular policy for the Tories
More from the Press Association:
Former special adviser Damian McBride confesses to leaking stories to the press about former home secretaries John Reid and Charles Clarke at a time when he was determined to ensure Brown succeeded Tony Blair as prime minister. Blairite former minister Dame Tessa Jowell said she was "sure" that Miliband, a member of the Brown inner circle, would have been aware of McBride's activities.
She told BBC News: "I don't think it's damaging for Ed Miliband. I'm sure he knew that this was going on. He was actually away a lot of the time. But the strength of Ed Miliband has been to say that that is the past, we are not going back to that and that I am not going to preside over a parliamentary party or a Labour party that allows this kind of bad and malign behaviour and I think that has been a very important part of building confidence."
Shadow chancellor Ed Balls has set out steps Labour would take to raise money, which will be used to fund the "bedroom tax" measure. A Labour government would scrap the scheme where employees give up certain rights for shares and an apparent tax cut for hedge funds announced in the Budget.
Balls said costings compiled by the Government indicated ending these two "unnecessary measures" would save hundreds of millions of pounds each year. Labour is also promising to close a loophole it says is costing the taxpayer almost £400 million a year in tax and national insurance by allowing construction workers to claim falsely to be self-employed.
It believes as many as 300,000 are treated as self-employed subcontractors - often hired via an intermediary payroll firm - despite in effect operating as direct employees. TUC general secretary Frances O'Grady said scrapping the bedroom tax would ease the fears of low-income families and disabled people and called on the Government to end the policy now. Balls plans to close tax loopholes to save revenue
She said: "The bedroom tax is a cruel policy that is hitting vulnerable people in desperate need of help. Scrapping it will ease the fears of thousands of low-income families and disabled people worried about being forced out of homes they've lived in for decades. Councils would no longer have to waste valuable time and resources chasing them for mounting arrears. With one in three affected council house tenants already falling behind on their rent since the bedroom tax was introduced, it is doubtful whether it will save any money at all.
"Nonetheless, covering the theoretical cost of scrapping it provides a great excuse to ditch the Chancellor's shares-for-rights scheme - a policy flop that has now turned into a £1 billion tax dodge for venture capitalists and private equity sharks. With both Labour and the Liberal Democrats both now committed to scrapping the barmy bedroom tax, the onus is now on the Government to do the right thing and end the policy now."
The Tories claimed Labour's sums did not add up and the party would need to increase borrowing to cover the cost of the "bedroom tax" policy. The Government was already cracking down on the use of intermediary firms to dodge tax, and scrapping the shares for rights scheme would yield nothing in 2015/16 and just £5 million in 2016/17, the Conservatives claimed.
They argued that pension funds, rather than hedge funds, would be hit by reinstating the stamp duty reserve tax charge. Treasury Minister Sajid Javid said: "Labour's first policy commitment, after three years of waiting, is more spending on housing benefit, funded by a tax on pensions and more borrowing. That sums up Labour's record in office and shows it's still the same old Labour. Despite promising 'discipline' on borrowing, Ed Miliband has shown he is too weak to deliver. Nothing has changed - it's the same old Labour. And hardworking people would pay the price through higher taxes and higher mortgage rates."
But Grainia Long, chief executive of the Chartered Institute of Housing, backed the Labour announcement, saying: "The bedroom tax is not fair - it has become clear since its introduction that this policy is causing hardship and suffering for thousands of people across Great Britain, as many in the housing industry warned it would."