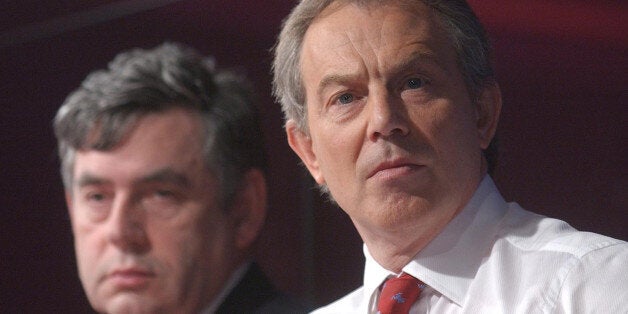 The five things you need to know on Friday 20 September 2013...
1) THE RETURN OF THE TB-GBs
So, the long-awaited memoirs from former Brown adviser Damian McBride have finally arrived, in the form of a serialisation in the Daily Mail.
"Revealed: Poison At The Heart Of Labour," is the splash headline on the front of the paper.
"Damian McBride confesses to helping Gordon Brown drive his leading rivals out of the Cabinet by using the dark arts of media manipulation.
"In the disturbingly candid book... the spin doctor says he routinely discredited opponents by tipping off newspapers about 'drug use, spousal abuse, alcoholism and extra-marital affairs'.
"Coming from a figure so central to Mr Brown's political operation, the book will hugely embarrass Ed Miliband and Ed Balls, the former prime minister's two closest allies.
"... The key revelations it contains include:
"- Mr McBride helped destroy Home Secretary Charles Clarke by fabricating a briefing war between him and a key adviser to Tony Blair;
"- Another obstacle to Mr Brown, John Reid, quit the same Cabinet post after Mr McBride leaked details of his alleged 'drinking, fighting and carousing';
"- Allegations about another minister, Ivan Lewis, pestering a female aide were leaked to punish him for criticising Mr Brown's tax policies;
"- Mr McBride confesses to logging in to Mr Brown's office email and leaking details of restricted or confidential documents to discredit opponents;
"- Mr Brown developed an elaborate 'political intelligence operation' with 'moles' on the teams of rival ministers;
"- Shadow foreign secretary Douglas Alexander knifed his own sister Wendy, the Scottish Labour leader, urging her dismissal over a minor donations controversy"
Will McBride's "revelations" damage Balls and Miliband? I doubt it. Most people won't pay much attention to a former special adviser they've never heard of, plus the two Eds continue to deny having any knowledge of McBride's activities (and nor does he, in his book, claim that they did - McBride is a friend of Balls and a semi-admirer of Miliband).
Will it damage Labour? Well, it won't help to remind voters of the Blair-Brown wars, will it? Will they never end? Will Leo Blair and Fraser Brown continue the fighting into the next generation? Who knows.
In a sort of pre-emptive strike yesterday, the Blairites - in the form of former Mandelson aide and TB adviser Benjamin Wegg-Prosser - leaked a whole bunch of Downing Street emails to the Guardian, in which Blairites respond with rage to the Brown 'coup' in 2006, refer to 'blackmail' from the Brown camp and refer to McBride as 'Damian McPrickface'. Mature, eh? My favourite line from the emails is (then junior minister) James Purnell saying: "Am happy to do any TB boosting if you need anyone?"
Could this be the Syria breakthrough that the world has been waiting for? From the Guardian:
"The Syrian conflict has reached a stalemate and President Bashar al-Assad's government will call for a ceasefire at a long-delayed conference in Geneva on the state's future, the country's deputy prime minister has said in an interview with the Guardian...'Neither the armed opposition nor the regime is capable of defeating the other side,' he said. 'This zero balance of forces will not change for a while.'"
However, as the report goes on to note:
If accepted by the armed opposition, a ceasefire would have to be kept "under international observation", which could be provided by monitors or UN peace-keepers – as long as they came from neutral or friendly countries, he said.
Leaders of Syria's armed opposition have repeatedly refused to go to what is called Geneva Two unless Assad first resigns. An earlier conference on Syria at Geneva lasted for just one day in June last year and no Syrians attended.
Can the west and its Gulf allies bring the rebel groups to the negotiating table? The ball may now be in their, not Assad's, court...
Last night, Channel 4 News had a mini-scoop on the eve of Ukip's annual conference:
"In the late 1970s and early eighties the Ukip leader was a pupil at Dulwich College in south London, one of Britain's most prestigious schools. Channel 4 News has uncovered strong evidence that teachers at Dulwich thought Nigel Farage was 'racist', and 'fascist' or 'neo-fascist'.
We have a long letter (below) written in June 1981 by a young English teacher, Chloe Deakin... The letter says that when one teacher said Farage was 'a fascist, but that was no reason why he would not make a good prefect,' there was 'considerable reaction' from colleagues.
"Yet another colleague described how, at a Combined Cadet Force (CCF) camp organised by the college, Farage and others had marched through a quiet Sussex village very late at night shouting Hitler-youth songs."
"Leader Nigel Farage is to predict his UK Independence Party will come first in next year's European elections, saying it is 'growing up'.
"Addressing UKIP's annual conference later, he will say the party is also set to overtake the Liberal Democrats, in terms of members, within two years."
Meanwhile, my HuffPost colleague Tom Moseley reports:
"Ukip has abandoned its policy of banning the burka, its deputy leader has confirmed.
"Paul Nuttall told The Huffington Post UK the high-profile pledge, made in 2010, was made 'under a previous leader'."
BECAUSE YOU'VE READ THIS FAR...
Watch this video of a cat failing to catch its own tail in spectacular fashion.
First Putin wrote an op-ed in the New York Times. Then John McCain wrote an op-ed in Pravda. Now Hassan Rouhani, Iran's new pragmatic president, has written an op-ed in the Washington Post, saying:
"My approach to foreign policy seeks to resolve these issues by addressing their underlying causes. We must work together to end the unhealthy rivalries and interferences that fuel violence and drive us apart.
"First, we must join hands to constructively work toward national dialogue, whether in Syria or Bahrain. We must create an atmosphere where peoples of the region can decide their own fates. As part of this, I announce my government's readiness to help facilitate dialogue between the Syrian government and the opposition.
"Second, we must address the broader, overarching injustices and rivalries that fuel violence and tensions."
Barack Obama, over to you?
5) SHIRLEY THE HOMOPHOBE?
What on earth was Shirley WIlliams thinking, as she did her best impression of Tory Tim Loughton on Question Time last night, with a dose of (unwitting?) homophobia thrown in for good measure?
"Shirley Williams has said her Lib Dem colleague Simon Hughes would not have opposed giving free school meals to schoolchildren if he had ever been a father... The senior Lib Dem peer said her party's deputy leader had made a "big mistake" by having railed against the measure, now a flagship Lib Dem policy, when it was introduced by his local Labour council.
"Speaking on the BBC's Question Time programme on Thursday evening, Williams said: "I think Simon is not a parent, if he was he would have never had made those statements."
"'What happens is if you don't realise this extraordinary non economic fact that many parents don't claim free school meals, and you don't realise that if you're not in schools where it happens, you make remarks like Simon's done,' she said. 'I'm a great believer in Simon, he is an excellent MP, I think it was big mistake, I think it's one thing now he would probably change his mind about.'"
On Twitter, Labour's Chris Bryant hit back: "Shirley Williams is shockingly homophobic. She says Simon Hughes is wrong on school meals because he doesn't have children," he said, adding: "Shirley Williams. Like Tim Loughton, how can you have a view on homosexuality unless you're homosexual?"
From today's Sun/YouGov poll:
That would result in a hung parliament, with Labour one seat short of a majority.
Polly Toynbee, writing in the Guardian, says: "My advice to Labour: be of good cheer, be bold, stop jumping at shadows."
Fraser Nelson, writing in the Telegraph, says: "Cameron has an inspiring message, so let's hear it."
Philip Collins, writing in the Times, says: "Fear and loathing of Nick Clegg's party runs deep on the left, but wooing them is the way back to power."
Got something you want to share? Please send any stories/tips/quotes/pix/plugs/gossip to Mehdi Hasan (mehdi.hasan@huffingtonpost.com) or Ned Simons (ned.simons@huffingtonpost.com). You can also follow us on Twitter: @mehdirhasan, @nedsimons and @huffpostukpol