Ukip has abandoned its policy of banning the burka, its deputy leader has confirmed.
Paul Nuttall told The Huffington Post UK the high-profile pledge, made in 2010, was made "under a previous leader".
The eurosceptic party was led at the time by Lord Pearson, between Nigel Farage's two spells in charge.
Nuttall said: "We do not have a policy on it. But our view is pretty much that if people need to see your face, then quite frankly it should be shown."
He gave the example of a bank, but insisted the party would not use legislation to get its way, because they are "libertarians".
"What we wouldn't go down the line of is forcing a blanket ban - we are a libertarian party," he added.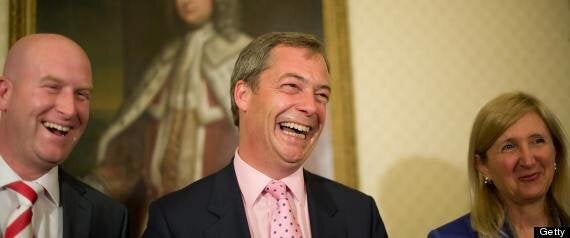 Nuttall, seen here with Nigel Farage, confirmed the ban had been scrapped
This is a marked contrast to three years ago, when Ukip proposed to ban "covering of the face in public places and public buildings".
Asked about this pledge, Nuttall told HuffPost UK: "That was 2010, under a previous leader."
Ditching the pledge is unlikely to please many Ukip voters, who are largely in favour of a ban.
It comes as debate rages over the wearing of the full face veil.
Home Secretary Theresa May insisted it is for women to ''make a choice'' about what clothes they wear, including veils, but said there will be some circumstances when it will be necessary to ask for them to be removed.
Nuttall was also asked about the apparent endorsement of his party earlier this year by EDL leader Tommy Robinsonwho said: "They are saying exactly what we say, just in a different way".
He said: "Tommy Robinson can say what he likes.
"It's a free country, if he wants to vote Ukip he can vote Ukip.
"It's as simply as that. We do not have the same principles as the EDL, it's as simple as that. But if Tommy Robinson wants to vote Ukip, he can vote Ukip."