U2 frontman Bono has recalled the moment he was chased down the street by anarchists wielding placards and shouting "Make Bono history!"
The singer – who is the subject of numerous 'I Hate Bono' websites and Facebook pages, was recounting a somewhat spicy incident in 2007 in Germany during the G8 summit to The Observer.
Yet despite his rumpled pride, he was forced to concede: "Even as I was running for my life, I [thought] it was a pretty good line."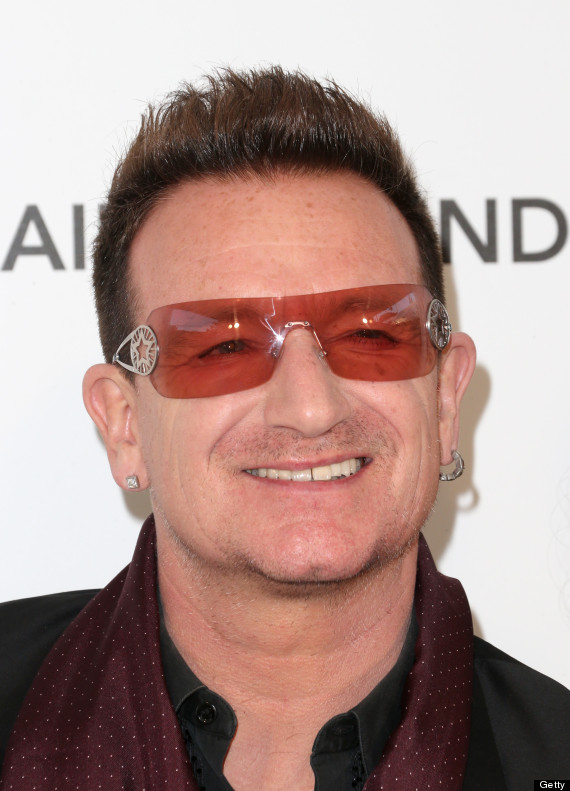 In the crosshairs: The U2 singer has revealed he was chased by angry anarchists shouting 'Make Bono History'
The anarchists in question are backers of the official Make Bono History campaign, which has the objective: "to remove Bono from the public-eye and restore a sense of dignity to mankind."
The group, which was formed in 2005, adds: "We believe it is an ethical necessity to prevent this publicity-hound from further damaging the work of Make Poverty History and other vital NGOs around the world, in addition to, crucially, rendering any further 'music' releases or bloody 'special edition' iPods by US, illegal.
"We believe this is the only way forward for mankind. We urge you to join us on this quest, and please donate to Make Poverty History as well, obviously. God, U2 are shit."
Continuing his lament, Bono revealed that in the same week he had been: "Booed on stage in Arusha, Tanzania, at the TED conference which I had campaigned long and hard to have in Arusha, Tanzania.
"I was booed by all the young entrepreneurs in the audience who thought I was peddling this idea of a supplicant Africa, which I happen to think could not be further from the truth."
Despite (or in spite of?) his seemingly tireless charity work, it seems the 53-year-old just can't catch a break.
In May he was reportedly branded an "ignorant, meddlesome fool" for his views on Africa by travel writer Paul Theroux.
In an interview with the Sunday Times, Liam Gallagher rejected guidance on Christianity from Bono, asserting: "What can Bono tell me that I don't know? I don't need his guidance. He'd talk a glass eye to sleep."
There's also the matter of the singer's decision to move his extremely lucrative music and publishing business away from Ireland, thus allowing him to avoid taxes on record sales.
Oh and those bloody sunglasses. What are they, welded to his face?