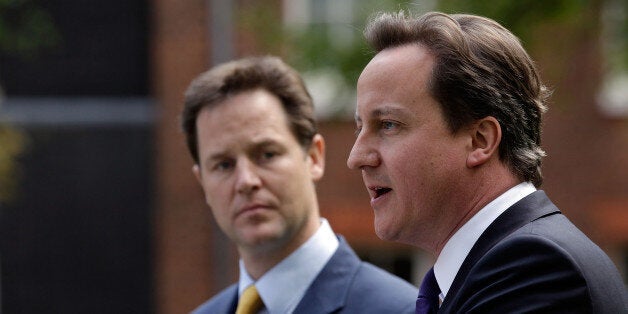 The Conservative Party should retreat from constituencies held by Lib Dem MPs if a Ukip candidate has a better chance of winning the seat, a leading eurosceptic backbench Tory MP has said.
Peter Bone, who hopes Nigel Farage's insurgent party can come to agree a deal with the Conservatives in 2015, said he would like to see "a few less Liberals and a more more Ukip" in parliament after the next election.
Speaking to reporters outside an event featuring Farage at the Conservative Party conference in Manchester, Bone said there was a "huge opportunity for somehow the centre right vote to come together" and defeat Labour.
"Why does Ukip not stand against Conservatives, in return in some Liberal seats, where we cant win but if a Conservative didn't stand we might let Ukip in to defeat Lib Dem," he said. "I would much rather have a Conservative Party working with Ukip than with the Lib Dems."
He added: "If we can get he parties somehow to work together, how that would work I don't know, but we would have a Conservative majority and we would have the in/out referendum and we would come out of Europe. At the moment what we are heading for is a split of that vote that would let Labour in."
Farage has singled out Bone as one MP who Ukip may be able to do a deal with at a local level even though he has ruled out a national Tory-Ukip pact.
Asked if he would be happy to stand as a joint -Ukip-Tory MP in his Wellingborough seat, Bone said he would only do so if "there is some national deal". A move that has been dismissed by David Cameron.
However Bone said he was more than happy for Ukip to endorse him if it wanted. "I'm a Conservative, always been a Conservative. If any other party wants to endorse me, great," he said.
Bone tops the list, along with Nadine Dorries, of MPs who are seen as likely to want to make some sort of deal with Ukip. And it did not escape observers that he was wearing a Ukip-purple tie to attend the fringe event with Farage. Asked why that was, he replied: "I'm wearing a [Tory] blue suit."
Bone's desire for Ukip and the Tories to work together may have been dealt a blow however, after Farage used his speech in Manchester town hall to personally attack Bill Cash - a veteran eurosceptic Tory. And he conceded the personal attack, which caused another MP to storm out of the meeting, had not done well to foster good will. "I'm not sure that was too helpful," he admitted. "I'm not sure that actually brought that [a pact] any nearer."
Related