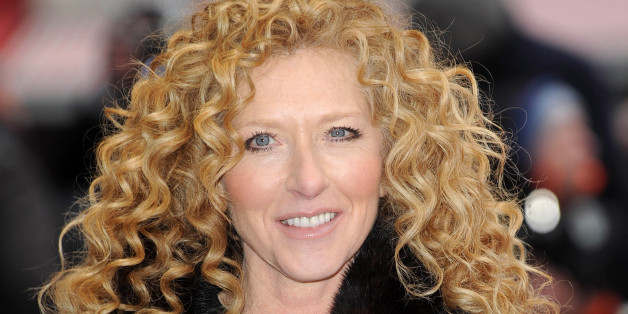 Getty
Celebrity interior designer Kelly Hoppen joined Dragons' Den this year and has swiftly thrown her weight behind projects like "Skinny Tan" and the "Running Mat".
The South African-born entrepreneur didn't get her seat on Dragons' Den for nothing having built her way up in the design world. She is known for her love of cream and for recently designed the interior of David and Victoria Beckham's London pad. The latest Dragons' Den series is now over, with her fellow stars off on other projects - like Deborah Meaden participating on Strictly Come Dancing.
HuffPostUK spoke to Hoppen about her time in the Den, how she has come so far and her secret to maintaining such a busy lifestyle.
How have you found being in the Den as a new Dragon?
I have loved it. Of course I was a bit nervous when we first began filming because it was all new to me but as soon I met all the other Dragons I settled right in, they made me feel at ease straight away.
It's been such an enlightening experience, you learn to see business from all kinds of angles. I like being able to share my experience and creative mind in the den and learn from my fellow Dragons.
How did you go from starting work in interior design at 16 to getting top clients like the Beckhams?
By working hard, being determined to succeed and being incredibly passionate about what I do. I also developed my signature style early and core values early on in my career. Although my style has evolved I have always stayed true to my values and philosophy of harmony and balance which clients come to me for.
Do women need to behave differently to men in order to get to the top?
I don't believe so, although they may have to work slightly harder as sadly most women are underestimated within the business field. Some skills may be overlooked due to their sex and this isn't fair. I think our sensitivity, instincts and ability to communicate and listen serves us well in business.
Confidence is always key and something which a lot of women lack in the business area – so one tip to get to the top is believe in yourself.
What advice would you give young entrepreneurs starting out now?
Don't be afraid. You need to take risks and trust gut and instincts. Passion is a huge driver, if you are passionate about what you then you can make it work. Hard work and focus is also essential and being able to learn, listen and adapt if you need to. Speak to friends, family and other people - find a couple of role models who can give you practical advice.
Many entrepreneurs say making mistakes is part of the process, have you made any - and what lessons did you draw from them?
We all make mistakes its human and definitely part of the learning process. I think the key is to move on quickly. If you've made a decision and it didn't work move onto the next thing and learn from that experience.
Don't dwell on it. The main thing I've learnt about making mistakes is that planning is as important as delivering. Plan, plan, plan so you are as ready as you can be for everything that may come your way.
Is the coalition doing enough to help entrepreneurs?
Government schemes such as Start-Up loans are already available to support entrepreneurs, which is great.
To make sure they are providing help where it's needed its important they are listening to the views of those people who are trying to start up businesses to find out where the barriers are, so these can be addressed.
How do you manage your busy lifestyle?
I like to work out in the mornings, it helps clear my head for the day ahead.
I have a to do list that I work to everyday and prioritise what I need to. I try not to work in the evenings or weekend if I can help it. I also try to go on a couple of holidays a year to recharge my batteries.
Having and maintaining a balance is very important but the first couple of years of being an entrepreneur you do find that usually the balance isn't always easy to find. If you find something that you like to do like yoga or running, try to stick to doing it a couple of times a week.
Finally, are you watching Strictly Come Dancing?
Yes, I am watching it and love it. I have always been a fan of the show but now that my fellow Dragon and friend is taking part I will be sure never to miss an episode.
I'm really enjoying watching her so far, go Deborah!
See also: