Whether it's gay people or environmentalists, Vladimir Putin is not a fan. The dangers of protest inside the former KGB operatives country are well known to the LGBT community. Now it seems protesting outside Russia carries equally severe consequences, with Greenpeace announcing that at least 13 of the 30 activists captured after members of the Russian military boarded their vessel in the Arctic's Pechora Sea are to face charges of piracy.
A group of 30, including six Britons, was detained after launching a protest against arctic drilling by a Gazprom platform. So far freelance videographer Kieron Bryan and Greenpeace activists Philip Ball, Alexandra Harris and Anthony Perrett have been charged, with the remaining two Britons, Frank Hewetson and Iain Rogers, expected to be charged on Thursday.
Kumi Naidoo, the campaign group's International executive director, said: "A charge of piracy is being laid against men and women whose only crime is to be possessed of a conscience," he said. "This is an outrage and represents nothing less than an assault on the very principle of peaceful protest. Any claim that these activists are pirates is as absurd as it is abominable. It is utterly irrational, it is designed to intimidate and silence us, but we will not be cowed."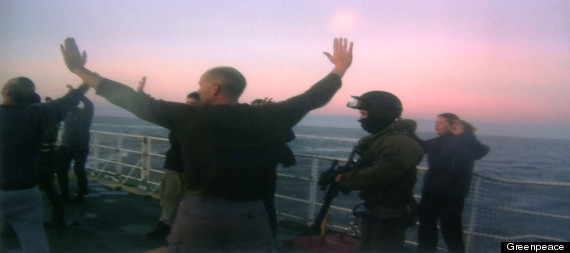 The activists said the Russian officials pointed guns at them
More from the Press Association:
Bryan's parents have said they are ''extremely worried'' about their 29-year-old son. Andy and Ann Bryan, from Shebbear in Devon, said: ''Our son is a very kind, caring individual and environmental issues have always been very close to his heart. He would sympathise with the cause but he was simply there doing his job as a freelance videographer."
John Sauven, Executive Director of Greenpeace UK, said: "I am deeply concerned by the news from Murmansk that a number of UK activists and freelance videographer Kieron Bryan, who were seized from the Greenpeace ship the Arctic Sunrise, while peacefully protesting against drilling in the Arctic Ocean, have been charged with piracy.
"There is not a shred of evidence to support these charges. Our job now is to galvanise public support to bring pressure on the Russian authorities to drop these ridiculous trumped-up charges and release the 'Arctic 30' immediately."
Bryan, a freelance filmmaker and videographer, previously worked at The Times. He was hired on a short-term contract by Greenpeace to document its work on Russian oil exploration in the Arctic Circle. Greenpeace is campaigning against attempts by companies to extract oil from the waters of the Arctic, warning that a spill would be highly environmentally damaging and extraction of more fossil fuels will add to climate change.
Gazprom's plans to start drilling from the Prirazlomnaya platform in the first quarter of 2014 raised the risk of an oil spill in an area that contains three nature reserves protected by Russian law, campaigners said.
Speaking on behalf of the Bryan family, Kieron's brother Russell Bryan said: "Kieron is a freelance journalist who was employed by Greenpeace to make films for both media and promotional distribution. "He is not an activist. He cares deeply for the work he produces and is particularly interested in political and environmental issues. The protest he was filming was safe and peaceful. We are stunned and shocked at the charges the Russian authorities have produced against him and urge the UK and Russian Governments to do everything possible to secure his release as soon as possible. Kieron is such a kind and caring person, we just want him home."