It's been a tough week for the Daily Mail, with politicians from all parties attacking its hatchet job on Ed Miliband's late father.
It must have been keen to deflect attention from the issue.
So on Wednesday night, it published an entirely incorrect write-up of one of the most high-profile court cases in the world.
Nick Clegg: The Daily Mail is overflowing with bile
WATCH: Alastair Campbell versus the deputy editor of the Mail
As the verdict broke in the battle between Michael Jackson's family and the singer's concert promoter AEG, the Mail announced the verdict online: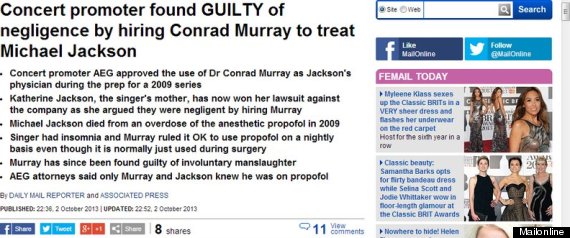 Breaking news
Except that AEG had in fact been cleared. The jury found that the company had not been negligent in hiring doctor Conrad Murray, who was later jailed for manslaughter.
The story was taken down, but not before screengrabs had circulated on Twitter.
It had echoes of 2011, when the Mail put up the wrong verdict in the Meredith Kercher case, reporting that Amanda Knox had "looked stunned" when her appeal was rejected.
In fact, she had been successful, and the Mail was rapped by the Press Complaints Commission for the slip, which was online for 90 seconds.