Dozens of migrants desperate to reach Italy have died after their boat sank near the island of Lampedusa, with rescuers warning that the current death toll is likely to rise dramatically.
Italy's transport minister said at least 82 people have died after the boat caught fire off the coast of southern Italy. Around 250 are still reported to be missing.
An estimated 500 people were on the boat when it capsized, according to AFP reports.
Mayor Giusi Nicolini said the dead included at least one young child and a pregnant woman, according to Sky News. Amnesty International told HuffPost UK they believed the migrants were from Libya.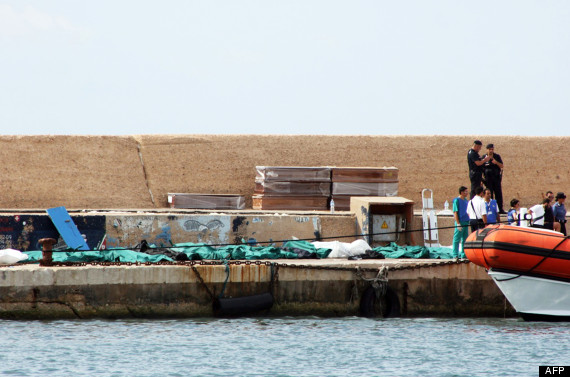 Italian policemen and rescue workers stand next to the covered bodies of migrants at Lampedusa port
Passengers desperately tried to swim to safety, and the BBC reported that dozens were still in the water. In this image made from video provided by the Italian Coast Guard, an Italian Coast Guard vessel transporting survivors of a ship carrying migrants which caught fire and sank off the Sicilian island of Lampedusa The body of a drowned migrant is being unloaded from a Coast Guard boat
There are suggestions that a fire broke out on board, before the boat sank.
In a statement, the Italian transport minister, Maurizio Lupi, said the tragedy was "not humanly tolerable".
"We need to rescue those whose boats sink at sea, a task the men of the coastguard have been seeing to for months, but we also need to do everything possible to stop the traffickers of death who exploit the hope of the poor," he said.
He added: "It is a duty which we must take on, which the international community and in particular the European Union must take on."
Amnesty's Europe and Central Asia Deputy Director Jezerca Tigani said: "The waters around the small island of Lampedusa have again tragically become a graveyard for migrants. These grim events keep repeating themselves as thousands of people make the perilous trip across the Mediterranean to seek protection or a better life.
"It is high time the Italian authorities and the EU increased their search-and-rescue capacity and co-operation in the Mediterranean Sea, rather than concentrating resources on closing off the borders. More must be done to prevent further loss of life in the future."
Another boat carrying more than 460 migrants arrived in Lampedusa shortly before today's shipwreck. Those on board are now housed at the island's centre for migrants, which currently holds around 700 people.
This is the second shipwreck of a migrant boat off Italy's coast this week.
On Monday, 13 migrants, the majority from Eritrea, drowned when their boat ran aground off Ragusa in Sicily.
The traffickers on board the sinking vessel reportedly forced the migrants to jump to their deaths in the sea by whipping them and threatening them with knives.