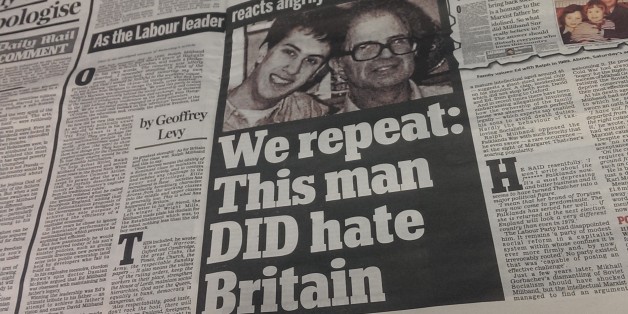 A senior journalist at the Daily Mail has said it was the paper that deserves an apology, not Ed Miliband, after a Labour MP and Jewish figures suggested the attack on Ralph Miliband was anti-semitic.
Alex Brummer, the Mail's City editor, said there would be no apology for the paper's coverage of the Labour leader's Marxist academic father, in which he was described as "the man who hated Britain".
Appearing on BBC Radio 4's Today programme, Mr Brummer strongly defended the Daily Mail's original article about Ralph Miliband, which questioned how far his hard-line left wing views had influenced his son.
WATCH: Mehdi Hasan savages Daily Mail on Question Time
"I don't think we need to apologise for anything. This was a piece which examined somebody's views very carefully," he said.
"I think there are people out there who need to apologise to us because there have been vicious accusations in the last couple of days, from (former Labour leader) Neil Kinnock among others, that somehow this was an anti-semitic attack." Ed Miliband distanced himself from accusations against the Mail of anti-semitism
While he acknowledged that the headline on the article about Mr Miliband senior had been "quite robust", he said that it had to be read in conjunction with the whole piece.
"Headlines in newspapers are often quite robust, often more robust than the articles themselves," he said.
He said the article had been an attempt to understand the Labour leader's policies in the wake of his party conference speech last week in Brighton.
"It came right out of the Labour Party conference, out of his speech, where we felt ... there was quite a lot of rhetoric that was anti-free enterprise," he said.
He said the newspaper had a right to explore views which "were rampant in the house in which Ed Miliband was brought up, and was heard at the breakfast table every morning ... it tells you why he has such a low regard for free enterprise".
But Labour peer Lord Glasman said there were parallels between McCarthyism in America, "which took any criticism of the free enterprise system as anti-Americanism".
"What I'm saying is that (Daily Mail editor) Paul Dacre has got a 1950s McCarthyite politics," he told the Today programme.
Ed Miliband had sought to distance himself from the claims of anti-semitism.
But he stepped up his demand for the paper's owner, Lord Rothermere, to mount a full inquiry into his organisation's culture and practices after the Mail's sister title, The Mail on Sunday, sent a reporter to accost his relatives at a private memorial service.
Lord Rothermere apologised to Mr Miliband for that incident yesterday but has refused his demands for a wider inquiry into the way his newspapers operate.
Speaking to BBC Radio Five Live, Mr Miliband made clear that he was not suggesting the paper was anti-semitic.
"I'm always incredibly careful about throwing around the idea that the paper or somebody is anti-semitic or racist unless there is real evidence for that," he said.
"I don't believe that of the Mail, that's not been my issue."
He said that while the newspaper was entitled to hold him to account for his views, the way it had attacked his father was unacceptable.
"They'll criticise me, they'll say my policies are wrong, that's absolutely fine. But when it comes to my dad, and saying my dad hated Britain, I'm afraid they're crossing a line," he said.
"In all of this, they've never apologised for the fact they said my dad hated Britain - an idea without any foundation.
"I'm not picking a fight with the Daily Mail. I don't want to be talking about my family but I felt I had to, given what happened with my dad and what happened at my uncle's memorial service."
He added: "What I would hope Lord Rothermere would do ... is look at the wider culture and practices of the Mail and the Mail on Sunday because I don't think this is an isolated incident that has just happened to my family."