 PA
Health Secretary Jeremy Hunt has attempted to calm a dramatic escalation of hostilities between himself and his Labour counterpart Andy Burnham - who threatened to take the Conservative to court over a tweet.
Bitter exchanges were sparked by the release of emails showing the Department of Health under Labour tried to stop details emerging of a hospital scandal involving higher-than-normal death rates.
Hunt seized on the emails as "shocking revelations on Andy Burnham's attempts to cover up failing hospitals".
"We're legislating to make sure this can never happen again," he wrote on Twitter.
Labour wrote too the Cabinet minister warning of further action unless he ends what Labour says is a baseless smear campaign against Burnham.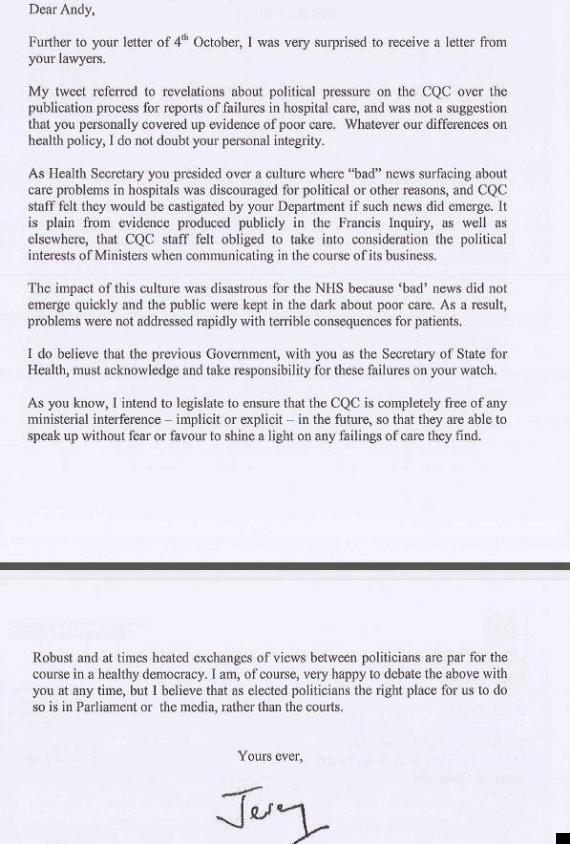 The letter from Jeremy Hunt in full
Hunt, who does not directly apologise for his claims of a "cover up" during Burnham's tenure at the Department of Health, wrote to Burnham on Monday saying he did not doubt his opposite's "personal integrity".
Hunt wrote that he was "very surprised to receive a letter from [Burnham's] lawyers".
He added: "My tweet referred to revelations about political pressure on the CQC over the publication process for reports of failures in hospital care, and was not a suggestion that you personally covered up evidence of poor care. Whatever our differences on health policy, I do not doubt your personal integrity."
The testy letter, released on Twitter in the midst of a high-profile cabinet reshuffle, went on to criticise Burnham's handling of the department and the "culture where 'bad' news surfacing about care problems in hospitals was discouraged for political or other reasons."
But the best place for debate, Hunt said, was "in Parliament or the media, rather than the court". The letter was signed "Yours ever, Jeremy."
The offending tweet has not been removed:
Shocking revelations on @andyburnhammp's attempts to cover-up failing hospitals. We're legislating to make sure this can never happen again.

— Jeremy Hunt (@Jeremy_Hunt) October 4, 2013
Burnham had been at the centre of swirling rumours that he could be set for the chop from his Shadow Health Secretary post, having alienated party leader Ed Miliband with a critical interview in the Guardian newspaper.
But the row with Hunt has thrown the Labour attack dog back into the spotlight for the right reasons, and is believed to have earned him reprieve. Burnham will stay in post.
The letter from Hunt is an unexpected turnaround. Late last week, Tories refused to step back, insisting there was a "clear link" between the watchdog's failure to expose high death rates and political pressure by ministers in the previous government.
"Instead of flailing around for excuses, it's time for Andy Burnham to apologise to patients for the care failures that took place on his watch," a spokeswoman for Hunt said earlier on Monday.
Burnham insisted the emails showed only that he was concerned that disclosure rules had been broken and that he in fact "ordered a press release...be issued later that day".