One sunny day, Mark Wallace decided to take his seven-year-old daughter to the local park near their home in Damascus.
It was spring 2012, the civil strife in the country had been raging for almost a year, but Wallace's Syrian wife Soulaf was still insistant that the war would not last.
Wallace himself had begun to feel uneasy a few months back, and looked at returning to his native Britain. But it was that day at the park that sealed his decision to flee the war-torn nation.
At the park with his daughter, parents and children heard shots ring through the park. With bullets going past their ears, Wallace was forced to shield his daughter from the fire, scooping her up, and fleeing with the terrified girl away from the danger.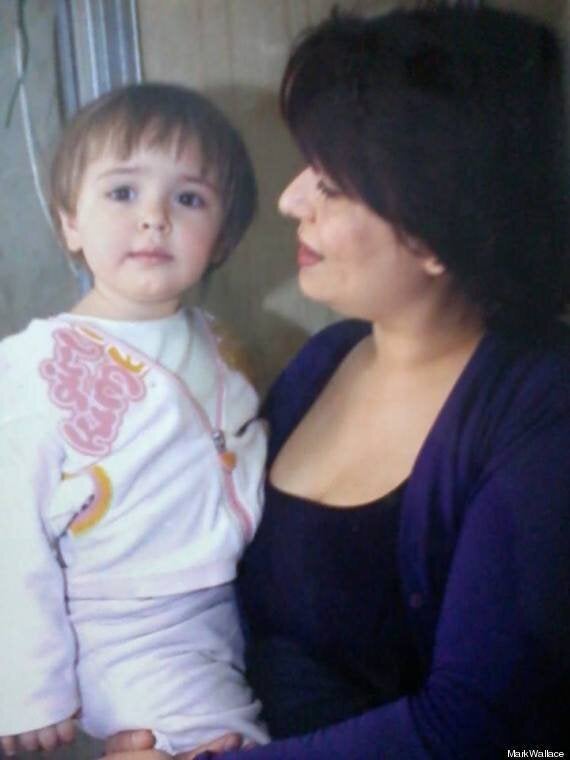 Soulaf and her daughter Sourianna, when they lived in Damascus
It was the turning point. Wallace, 49, a former building merchant and English teacher, was forced to take a heart-rending decision to flee along check-point lined roads, pock-marked with debris, to the airport in July 2012, with his small daughter Sourianna.
His wife, whose visa had expired, could not join them.
Fifteen months later, the Home Office will still not allow Wallace's wife, a psychologist, to visit him and their now nine-year-old daughter, living in Leicestershire.
Suffering from agoraphobia, depression and post-traumatic stress disorder, Wallace has been signed off work until 2014. Legislation brought in the month the pair left Syria insists that spousal visas are only given if the British spouse is earning £18,600.
Wallace says he was advised by friends who used to work at the British consulate that his wife should apply for a familial visit visa, which would allow her to at least spend six months with her daughter.
But that visa has been rejected twice, on grounds that Soulaf, an Alawite Muslim from the same sect as President Bashar Assad, would be "unlikely to return to Syria".
"My daughter and I have been under gunfire and our house rattled by horrific explosions, as well as witnessing horror not seen here on mainstream media," Wallace said.
"My daughter is nine, she knows what is happening, she knows where her mum is, but sometimes she doesn't even want to talk to her mum on Skype, she doesn't want to acknowledge where she is. It's so upsetting. Soulaf is desperate to see her daughter and there is nothing we can do.
"I do want to get back to work, but it's a Catch 22, if my wife could come back, she could help with earning and childcare. And the horror of knowing anything could happen to my wife, any day, is not helping me get well."
A letter from the UK Border Agency, seen by HuffPost UK and dated October 3, said the agency had "considered the compassionate circumstances of this case" but was "not satisfied that you [Soulaf] will leave the United Kingdom at the end of your proposed stay".
"Your sponsor is not working in the United Kingdom and I am not satisfied that your sponsor will be able to support your proposed visit or that you will leave at the end of your stay," the letter continued.
"Your sponsor admitted that he is unable to apply for settlement as he is not working in the UK, in receipt of public funds, due to suffering Post Traumatic Stress following events in Syria and therefore, would not meet the financial requirement.
"You are a national of a country that is going through escalating violence, civil unrest and instability. If you travel to the UK, I am not satisfied that you will not take the opportunity to remain in the UK with family residing there. Given the above I am not satisfied that you are a genuine visitor to the UK and will leave at the end of your stay.
"Whilst I appreciate the compassionate circumstances surrounding your application to visit your daughter and spouse in the UK, with the current unrest, instability and ongoing violence in Syria, I am not satisfied that you are genuinely seeking entry as a visitor or that you intend to leave the United Kingdom at the end of the period of the visit as stated by you."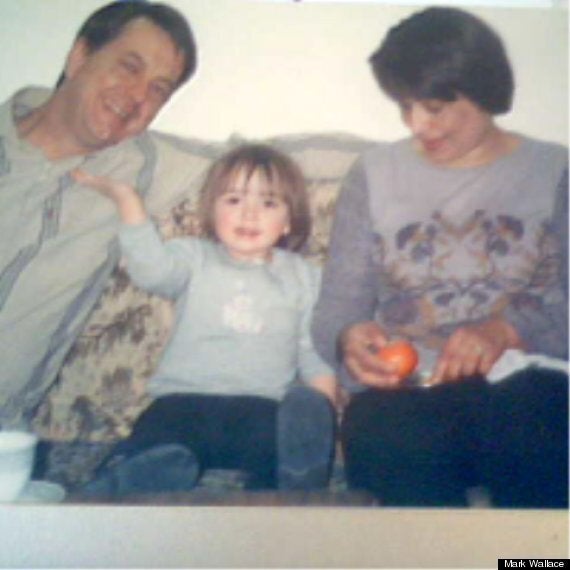 The Wallace family in Syria, before the civil unrest began
The pair met in Lebanon while Wallace was working in the Middle East, and married in the UK, in Market Harborough in 2003.
But although Soulaf was then given a visa until 2006, the pair decided to move to Soulaf's native Damascus the following February, so she could be nearer her elderly parents, and have better job prospects.
Wallace said he found a good job teaching English, and the couple were happy remaining in Syria. Even when civil unrest began, and the Foreign Office advised all British citizens to leave, the couple decided to stay and wait it out.
By 2012, life was intolerable for them and their young daughter, but Soulaf's visa had expired, and the British consulate closed down.
His experiences have traumatised him, he claims. "There was a time when protests were almost at the door of our home. we saw government soldiers firing into the air and then protesters and soldiers firing at each other, I had to run to get my daughter into the corridors away from the windows and stray bullets," Wallace recalled.
"I had no idea that human bodies can look like that after a bomb. You think you've seen horrific images on news reports, but you just don't realise what can happen to you, what can happen to your body.
"I saw where the skin from a face had been blown off, and the whole face, just the face, was lying in the road."
"We had no choice but to leave suddenly as roads to the airport were already being targetted with gunfire and bombs," he continued.
"We assumed, as before, that if [my wife] could make it to the nearest British Embassy that she would be automatically be given a visa to come to Britain, as my wife.
"We were obviously totally unaware of the new legislation brought in to being in the very month that I fled - July 2012. The hard and fast, black and white, inflexible, inhumane minimum salary rule. Had she applied prior to July 2012, she would, as before, as my spouse, been granted a settlement visa.
"Money is not a problem, as there is money in our family, and my wife provided documentary evidence of her $10,000 in savings, and assets that she owns, to support her stay."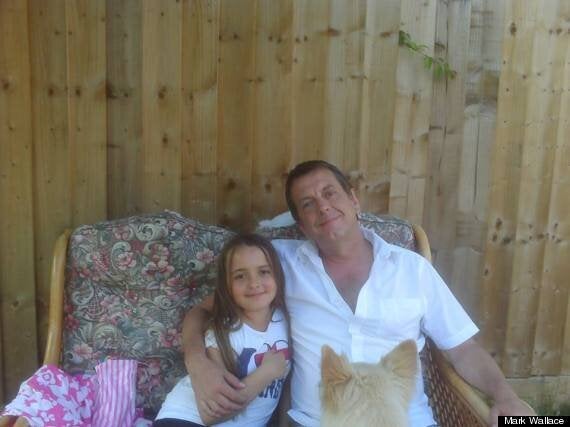 Mark and Sourianna Wallace at home in the UK, without mother Soulaf
After Soulaf's second temporary visa was rejected, she was forced to travel 100 miles to Homs to retrieve family land ownership documents, through enemy checkpoints, to prove she was financially solvent, Wallace claims. But her second visa application was still rejected.
"Have you any idea what that means or what courage it takes, not knowing if the next checkpoint is manned by the friendly Syrian army or an extremist faction who will kill you if your family name on your identity card shows that you are Christian or Alawite?" Wallace said.
Wallace claims he has written to his MP Andrew Robathan and to Bradford MP George Galloway but received no help or response. An appeal is also pending.
"I want David Cameron to imagine, just for a moment, how he would feel if his wife was dodging bombs, gunfire, and hostile checkpoints daily, and if he would want his child to picture its mother in this situation," Wallace said.
"Is that what 'family man' Cameron wants?"
The UK Border Agency have not responded to requests for comment from The Huffington Post UK.
Related