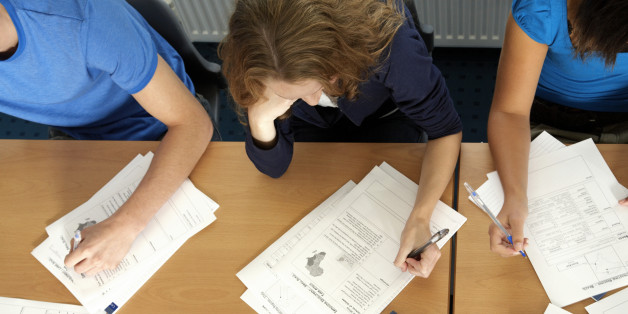 Getty
Hundreds of thousands of pupils are destined to fail at school and are being written off at the age of seven, a children's charity has warned.
Many are falling behind in the three Rs by the age of seven and by 2020, around half a million youngsters, many from poor families, could be struggling in reading after two years of compulsory schooling.
SEE ALSO:
According to a new report by Save the Children, youths should not be written off at the age of seven because they are struggling with the basics, suggesting that if pupils are not confident in reading, then all other subjects become a "closed book".
Almost 80% of the difference in GCSE results between rich and poor children has already been determined by the time a child is seven, it adds.
The charity's study is based on a new analysis of government figures on the performance of seven-year-olds in England in maths and English in 2012.
It cites figures which show that last year, 13% of all seven-year-olds - around 76,000 pupils - did not reach the standard expected of the age group in reading. A breakdown reveals that almost one in four children on free school meals - a key measure of poverty - failed to meet the expected standard, compared to 10% of their richer classmates.
Save the Children's acknowledges that there has been "steady and welcome progress" in the last five years to increase the number of children reading at the right level for their age group.
But it concludes that even the same rate of progress continues, by 2020 around 480,000 youngsters will have fallen behind in their reading skills by age seven, and of these 180,000 will be youngsters from low-income homes.
It goes on to say that if a slower rate of progress is made, then by 2020 520,000 seven-year-olds will have fallen behind in reading. Of these, 220,000 will be poor pupils.
The report also shows a third scenario, in which children make half the rate of progress made in the last five years. In this case, 570,000 youngsters will be below the expected standard, including 210,000 poor children.
An analysis of writing skills suggests that by 2020, if the current rate of progress is made, around 740,000 seven-year-olds will be behind in the area, and if half the rate of progress is made, 810,000 youngsters will be struggling.
In a foreword to the report, Save the Children chief executive Justin Forsyth says: "If we do not act when children are young enough then by 2020 we will have left half a million children behind in reading.
"Without confident reading all other subjects are a closed book.
"Seven is too young to write off a child and yet less than a sixth of poorer children who are behind at seven will go on to achieve the benchmark five good GCSEs."
The report goes on to say that there is an overall cost to society of youngsters struggling with the basics.
It suggests that if the UK had taken action in recent decades to close the gap in achievement between rich and poor pupils at age 11 then the nation's GDP, or economic output, this year would be around £20 billion, or one percent higher. In 2020 it would be £30 billion (1.8%) higher and in 2030 around £60 billion (3.1%) higher.
The study also warns that the recent recession has made it harder for parents to help their children to learn at home, with families on moderate incomes affected the most.
"Parents on modest incomes - people like electricians, plumbers, nurses, midwives, construction workers, who are earnings between £17,000 and £30,000 a year - are facing a double pressure of working longer hours and seeing their wages cut or frozen, reducing the number of crucial school trips, music and sports lessons, and family excursions to museums," Mr Forsyth said.
Save the Children is calling for all political parties to sign up to an ambition for all children to start school ready to learn by 2020, for youngsters to be given help to catch up quickly if they start school behind so that they are not struggling at age seven. It also wants all youngsters to leave primary school as confident readers.
It also says that the Government should allocate an extra £1,000 each for five to seven-year-olds who are struggling with the three Rs and to triple the pupil premium to between £3,000-£4,000 for every eligible primary school pupil by 2020.
The charity says it is launching a programme called Born to Read which aims to get 23,000 children across England reading over the next four years.
A Department for Education spokeswoman said: "It is utterly unacceptable that so many disadvantaged children leave primary school without a firm grounding in the basics of reading, writing and maths and that is why we are urgently reforming primary education and giving specific support to disadvantaged pupils.
"We are increasing the Pupil Premium to £2.5 billion a year and doubling the number of disadvantaged two-year-olds eligible for free nursery places.
"We have introduced the phonics check which helps teachers identify pupils who need extra help; our rigorous new primary curriculum focuses on these vital subjects and children are now taking a new spelling, punctuation and grammar test. Many thousands of children will now receive the extra support they need to catch up with their peers."