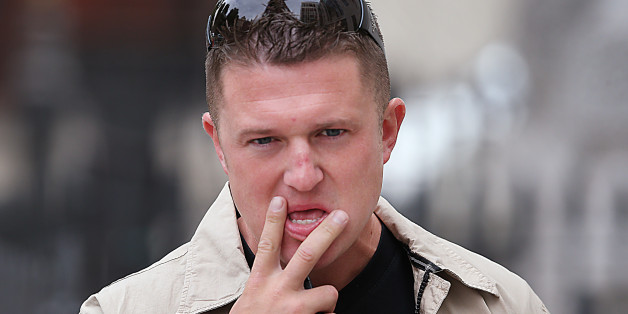 Getty
UPDATE: Tommy Robinson Explains Decision To Quit EDL At Secret Quilliam Event
Tommy Robinson has announced that he has quit the English Defence League, claiming he can no longer control the extremist elements within his right-wing organisation.
Naturally, Twitter was thrown into a frenzy over the sensational shock departure, with many sceptically speculating whether "a tiger can change its stripes."
Genuinely confused, is AKA Tommy Robinson leaving the EDL supposed to make him look better, or them look better?

— Alex Hern (@alexhern) October 8, 2013
"@EDLTrobinson: http://t.co/NZHgN51Yod hope people listen to my reasons" < Woolwich wasn't such a miracle cure, after all? #EDL

— EDLNewsXtra (@EDLNewsXtra) October 8, 2013
Tommy Robinson has apparently quit the EDL warning about extremism. Somewhere a very surprised pig is soaring over shivering demons

— Dr Matthew Ashton (@DrMatthewAshton) October 8, 2013
Tommy Robinson quits EDL? LOOOOOOOOOOOOOOOOL

— ThatRandomEggGuy (@EggParachute) October 8, 2013
Tommy Robinson quits EDL, calling it "extremist"?! In a parallel dimension, Hitler quits the Nazis for going "a bit too far at times".

— Tim Stanley (@timothy_stanley) October 8, 2013
Tommy Robinson quitting EDL saying it's too extreme... hahaha who the fuck's he trying to kid, the tit.

— Adam Bennett (@adbennoEFC) October 8, 2013
Oh look, Tommy Robinson is taking his Islamophobic, hate-filled message mainstream by cleverly quitting the toxic EDL. #sigh

— Mehdi Hasan (@mehdirhasan) October 8, 2013
As well as intimidating anti-EDL activist last week, Tommy Robinson was posting EDL propaganda 8 hours ago. Bizarre. pic.twitter.com/iVgMYBn1cy

— Owen Jones (@OwenJones84) October 8, 2013
I hope the Quilliam Foundation haven't gifted Tommy Robinson opportunity to rehabilitate his image without renouncing his bigotry & racism.

— Alex Bjarnason (@Alex_Bjarnason) October 8, 2013
Robinson, whose real name is Stephen Lennon, said in a short statement to the Quilliam Foundation that he had been "considering this move for a long time."
He and fellow co-founder Kevin Carroll left the protest group following the intervention of the anti-extremist thinktank, who announced the move.
READ MORE:
Quilliam said Robinson's departure from the EDL marked a "huge success" for community relations in the UK.
In a written statement, Robinson admitted that EDL protests were "no longer productive."
"I acknowledge the dangers of far-right extremism and the ongoing need to counter Islamist ideology not with violence but with better, democratic ideas," he said.
PROFILE: The EDL's Tommy Robinson
Quilliam facilitates the decapitation of the #EDL. Here's the moment pic.twitter.com/vX13vPerWY

— Jonathan Russell (@JRussellEsq) October 8, 2013
Now, social media users have queried what will become of his organisation.
Well looks like @EDLTrobinson is jumping ship before the EDL does what every other hate group does and implodes. He's not fooling anyone.

— Simon Magner (@Simon_Mag) October 8, 2013
@adjykritik EDL will disintegrate without their focal point and leaders.

— Voluntary Anarchist (@VoluntaryAnarch) October 8, 2013
Sick of the English Defence League, Tommy Robinson starts the Attack Foreigners League. #EDL

— Colin Surname (@colincidence) October 8, 2013