Police are investigating a club after the promoter for one of its nights was caught using a pro-rape video to advertise an event.
On Tuesday, Tequila UK was exposed as having promoted a video featuring a student speaking of his intentions to rape a woman. The company, which describes itself as a "spirit fuelled den of hedonism and debauchery", had the video made to promote its night "Fresher Violation", which is held at Leeds venue the Mezz Club.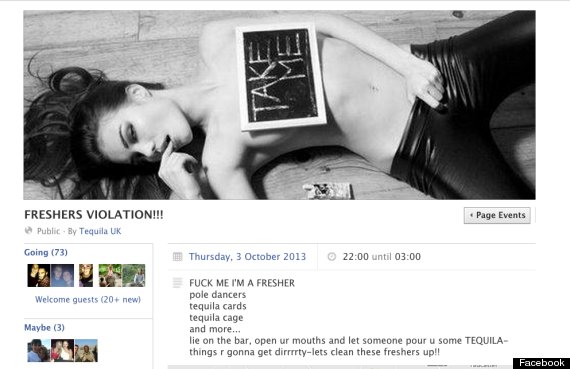 The club night's Facebook page
West Yorkshire Police are now investigating both the nightclub's licence and Tequila UK. A spokesperson told The Huffington Post UK: "We are speaking to the promoters and the venue's management. That's all we can say at this stage."
Click here for more information about the 'freshers violation' video.
The "disgusting" promotional video, which has since been edited, saw a presenter ask a student: "How are you going to violate a fresher tonight?"
The student then replied: "She's going to get raped."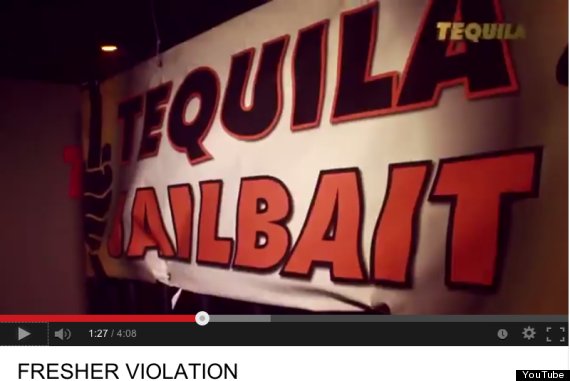 The club night had a "jailbait" cage - which was featured on the video
A petition has now been launched urging the Mezz Club to stop hosting Tequila UK nights and has almost 2,000 signatures.
SEE ALSO:
HuffPost UK was contacted by several students wishing to express their concern about the video. Rebecca Johns, a 21-year-old student at Leeds University, said she was "shocked" by the material which "glorifies rape".
"It is disgusting that vulnerable, drunk students are exploited in this way," she told us. "On Tequila UK's Facebook page, a promotional image of their night is a half naked girl with a poster saying 'Take Me' over her boobs.
"What kind of respect does this give to women!? What does this inspire women to be, and how does this encourage men to view women!?"
On Thursday, Tequila UK issued a statement insisting the company wanted to "change for the better".
"First of all, we wish to apologise unreservedly for the offence that has been caused and would like to explain, without trying to excuse, a little about who we are, what we stand for and how we hope to change for the better as a result of this situation."
Headingley councillor Neil Walshaw alerted the police to the issue after being "outraged" by the promo video.
"Rape culture and rape banter is wrong. Full stop," he told HuffPost UK. "I along with other Councillors and Hilary Benn MP will be campaigning against the spread of 'rape culture' and 'rape banter'.
"I warn promoters, businesses and venues to stay away from this kind of marketing as it must surely call the licences of the bars and clubs using it into question. I have asked Leeds City Council Licensing Team and West Yorkshire Police to investigate this matter and they have agreed.
"Many complaints have been received as people can imagine. We MUST make a stand on this issue. I will be pressing both the Council and the Police to take the strongest possible action, including the possibility that a venues licence could be revoked."
Leeds Central MP Hilary Benn has been contacted by HuffPost UK has yet to comment.