A company has been accused of being "hideously exploitative" for making unemployed youths compete in a "Boris bike race" to win a job.
Aspect.co.uk, a property maintenance company, offered two apprenticeships to whoever won the race.
Now a leading unemployment charity has said the company showed a "deep lack of respect".
Aspect even employed a Boris Johnson impersonator to score the candidates as they competed for the paid positions.
UK Youth, a charity helping young people realise their potentials, implored the company to "drop the stunt" - which took place on Wednesday morning and saw 23 attend.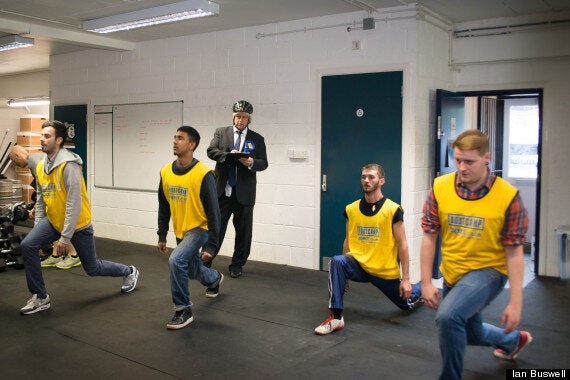 The Boris Johnson impersonator scores the teen hopefuls
Joanne Birch-Phaure, senior communications officer at the charity, told The Huffington Post UK: "Asking young people to go the extra mile in pursuit of a role is one thing if it demonstrates the skills they will need to do the job in question. Using them for publicity or amusement in this kind of mercenary way is hideously exploitative.
"The company involved should drop this stunt or answer just how this helps them select a suitable candidate whilst being sensitive to those who are unsuccessful."
Birch-Phaure wasn't alone in deeming Aspect's actions unsavoury.
Giuseppe Porcaro, secretary general of the European Youth Forum, told HuffPost UK: "It seems to me that there is a two-fold problem here: unemployed youths are not only mocked and not recruited for the skills that they would bring to the company but they are also used as free advertisement for the company.
"It is double 'exploitation' of the precarious situation youth is in due to the economic crisis. Definitely the European Youth Forum is against this kind of practices."


A spokesperson for Tomorrow's People described the event as a "gimmick" which showed a "deep lack of respect" for young people, saying: "Tomorrow's People has been helping unemployed young people to get and keep a job since 1984.
"These are very challenging times for young people trying to get into the jobs market. For those with no work experience and few qualifications and no support network to fall back on, the barriers to employment are huge.
"In our experience what they need is effective training and development to build their confidence and asipirations so they can move forward with their lives. This type of gimmick doesn't reflect well on Aspect as an employer and the company's approach to recruitment shows a deep lack of respect for young people and the determination that the vast majority show to get onto the employment ladder."

Your reactions
A spokesperson for the company denied the event was exploiting youths: "The competition has been taken out of young people's work ethic. This is simply an opportunity for young people to rise to the surface and the best would get a job.
"There are also English language tests, numeracy tests, and a test on how to make a box."
Popular in the Community