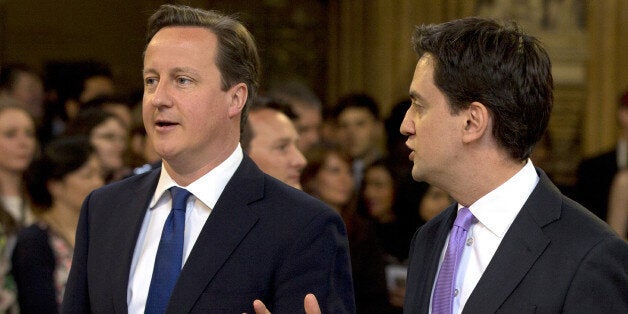 The Labour has lost its lead over the Conservatives with both parties now tied on 35%, according to a poll published on Thursday.
The Ipsos MORI survey for the Evening Standard will worry Ed Miliband as it suggests the rise in fortunes for David Cameron is linked to a tentative economic recovery.
It is the first time Labour and the Conservatives have been tied in an Ipsos MORI poll since January 2012. The parties were also shown to be level in a YouGov poll in mid-September before the party conference season got underway.
Gideon Skinner, Head of Political Research at Ipsos MORI said: "The dividing lines between the leaders are a bit clearer after conference season, and they have all shored up their support – especially Ed Miliband, who has given more confidence to his own supporters. At the same time we have seen the Conservatives' vote share rise in recent months in line with economic optimism. The public's view is fascinatingly poised."
Despite the overall figures being worrying for Miliband, the poll does contain some good news. The Labour leader's signature policy of freezing energy bills until 2017 was the most popular proposal announced during the party conferences - with 62% saying it is the best for them personally and 50% seeing as the best for the country.
Miliband also received the biggest boost in personal support of all the main party leaders. Six in ten (61%) Labour supporters are now satisfied with the way he is performing as Labour leader, this is the highest Ipsos MORI has recorded since his first month in office.
George Osborne's announcement of a freeze on petrol duty for 18 months was the second most popular confrence policy with 56% saying it is best for them, and 44% best for the country.
And Nick Clegg's plan to raise the tax-free earnings threshold for people on the minimum wage came third, with 40% saying it would be good for them, and 44% good for the country.
The poll also showed the public increasingly see dividing lines between Labour and the Tories as the 2015 election approaches.
As many people think Cameron is either "right wing" or "right of centre" (57%) as think Miliband is "left wing" or "left of centre" (54%). These figures represent an increase of 8 points for Cameron and 10 points for Miliband since October 2010.
The survey also showed that a majority (30%) believe Clegg is in the centre ground - a finding that will please the Lib Dems as the party made a concerted effort at its conference to paint itself as the only centrist party.
Popular in the Community