A free trade deal between Canada and the European Union will provide a £1.3 billion boost to the British economy, according to David Cameron.
The pact - the first between the EU and a G8 country - was signed off in principle by European Commission president Jose Manuel Barroso and Canadian Prime Minister Stephen Harper in Brussels.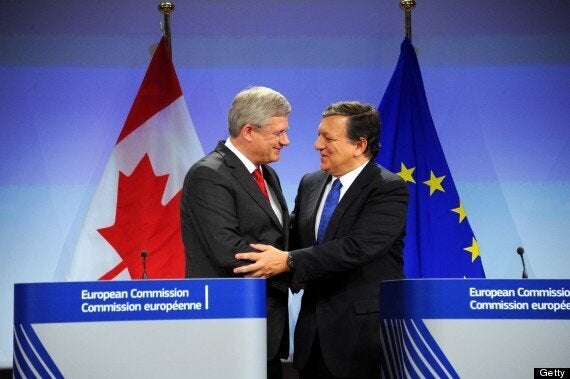 Canadian Prime Minister Stephen Harper shakes hands with European Commission President Jose Manuel Barroso after agreeing free trade deal
It is designed to remove more than 99% of tariffs between the two economies and increase bi-lateral trade by almost a quarter - though detailed negotiations and final approval could take another two years.
Mr Cameron, who spoke to his Canadian counterpart by telephone this morning, said it was 'great news' and called for a renewed focus on sealing other planned trade deals.
Talks are underway on a wide-ranging tie-up with the US - which would be the world's biggest - however the latest round was delayed by the US government shutdown.
The Commission is also negotiating with countries including Japan, Canada, and India in a bid to secure deals that the Prime Minister's Business Taskforce estimates could benefit the UK by £20 billion.
"It's great news that Prime Minister Harper and President Barroso have concluded this historic trade deal and I want to thank them for their commitment throughout these negotiations," Mr Cameron said.
"Earlier this week, the Business Taskforce called for more free trade deals. Today the EU has delivered its largest free trade agreement ever and proved that it can be an asset for British business.
"The deal will inject £1.3bn to the UK economy, boost exports by almost a third and create thousands of new jobs.
"I've made it a priority to push for a US-EU trade deal. We must now seize on today's success and focus our efforts on concluding all the other trade deals on the table.
"Concluding those would be worth over £20bn to the UK and help British businesses thrive in the global race."
Mr Barroso hailed agreement on what he called a 'highly ambitious and far-reaching' deal after hard-fought negotiations dating back to 2009.
Trade Commissioner Karel De Gucht said: "It has been a real challenge to reach this agreement, and it's a real first when it comes to a comprehensive free trade agreement between two mature economies."