The National Front in France has suspended a politician who called the country's black justice minister, a "monkey" who she would "rather see in the trees than in the government".
In an an embarrassing blow to party leader Marine Le Pen, who has threatened to sue anyone who describes her party as "extreme Right," Anne-Sophie Leclere launched into an apparently racist attack on Christiane Taubira.
On her Facebook page, Miss Leclere, 33, who runs a fishing shop, posted a montage of photographs placing a picture of a baby monkey, with the caption: "At 18 months" next to one of Miss Taubira, with the caption: "Now".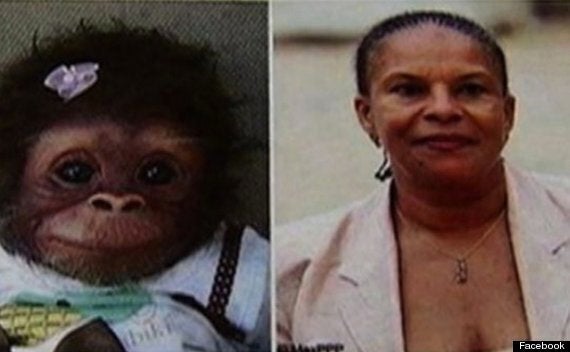 On her Facebook page, Anne-Sophie Leclere posted this montage
"She is wild," Leclere said, adding: "I have black friends and it doesn't mean I call them monkeys."
Florian Philippot, the National Front's vice-president, said the choice of Leclere as a candidate had been a "casting error".
The anti-immigration eurosceptic party is desperately seeking a makeover to broaden its voter appeal and dispel its xenophobic image.
Leclere will face a disciplinary hearing. She officially joined the party in 2012 and was named a candidate for last year's legislative elections only three months later, Agence France Presse reported.
The incident came on the heels of insults and attacks against Italy's first black minister, Cecile Kyenge, which sparked a pledge by 17 European countries to fight racism.
The attacks against the Congolese-born Kyenge have ranged from a senior member of the far-right Northern League party likening her to an orangutan, to having bananas thrown at her and nooses hung in a town where she was due to speak.