Health tourists could owe the country more than £500m, money that could be clawed back by the NHS if it had a better system for charging foreign nationals, a report commissioned by the government suggests.
It runs in stark contrast to a recent European Commission report concluded that so-called benefits tourism was "neither widespread nor systematic", and the research has been disputed by Labour's health spokesmen, and the chair of the British Medical Association's GP committee.
The research released today insists that so-called health tourists - such as women who travel to the UK in late pregnancy and give birth in an NHS hospital before returning home - cost the health service at least £70 million each year, according to the study on migrant access to NHS care in England, conducted by Creative Research on behalf of the Department of Health.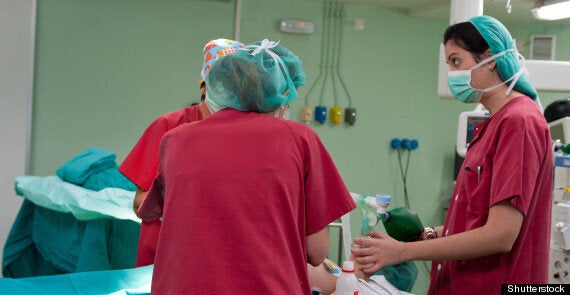 Health tourists could owe the country more than £500m, the new report suggests
It also estimates that £388 million could be recovered from patients who should pay for care but are not always currently charged by the NHS.
A DH spokeswoman said that only around 16% of this money is currently recovered by health service officials.
The report states that the health service has "some of the most generous rules in the world". At present only hospitals are required to charge for services and even then, emergency care is provided for free.
It concludes that the total cost of visitors and temporary migrants accessing NHS services is between £1.9 billion and £2 billion - but this figure includes some money that is already recovered.
The figures have been released ahead of the second reading of the Government's Immigration Bill, which aims to bring in measures to stop migrants abusing public services and make it easier to remove people who should not be here.
Key measures in the Bill will see temporary migrants, such as overseas students pay to access the NHS, while the appeals process against deportation is to be streamlined.
Ministers hope the levy on students or foreign workers who come to the UK for more than half a year will generate £200 million a year.
The surcharge, combined with better recovery of costs and a deterrent on health tourism could save the health service "well over half a billion ponds", the DH spokeswoman said.
Health Secretary Jeremy Hunt said that the NHS is a "national health service - not an international one".
Hunt has pledged to identify a "more efficient system" of claiming back costs and has also appointed Sir Keith Pearson to advise on visitor and migrant cost recovery.
He has also said he will be "introducing a simpler registration process to help identify earlier those patients who should be charged".
Hunt said the report shows there is a "serious problem", adding: "Having a universal health service free at the point of use rightly makes us the envy of the world, but we must make sure the system is fair to the hard-working British taxpayers who fund it," he said.
"We have one of the most generous systems in the world when it comes to health care for foreign visitors, but it's time for action to ensure the NHS is a national health service - not an international one.
"With the NHS already under pressure from an ageing population, it cannot be right that large amounts of taxpayers' money is being lost through treating people who should be paying from foreign countries.
"We are confident our new measures will make the NHS fairer and more sustainable for the British families and taxpayers it was set up to serve."
Immigration Minister Mark Harper added: "The British public expects and deserves an immigration system that is fair and stops migrants using public services that they are not entitled to. These proposals will ensure that migrants here temporarily make a fair contribution to the cost of health services in the UK."
Labour's shadow health secretary Andy Burnham called the announcement " more about spin than substance. The Government's own report undermines their headline-grabbing figures, admitting they are based on old and incomplete data.
"Instead of grandstanding, the Government need to focus on delivering practical changes. Labour would not support changes that make doctors and nurses surrogate immigration officials."
Dr Chaand Nagpaul, chair of the British Medical Association's GP committee, said: "Anyone seeking to access NHS services should be eligible to do so and we must consider any proposals for improving the current system of reclaiming healthcare costs from European or other governments whose citizens are treated by our health system
"However, there is limited evidence to suggest that migrants or short term visitors are consuming large parts of the NHS budget. The government's estimates are based on a number of assumptions that result in a figure significantly higher than previous estimates.
"GPs and other healthcare professionals do not have the capacity or the resources to administer an extended charging system that could require GPs to extensively vet every single patient when they register with a new practice.
"This would cause inconvenience to all patients and put additional strain on already overstretched GP services that are currently under pressure from rising patient demand and falling resources. It is doubtful that the expensive bureaucracy required to support an extended charging system would recoup enough money to cover the costs of setting it up in the first place.
"We must also be careful about creating a climate where some people are deterred from seeking treatment when they need it. Not only would this present a risk to the health of that individual, it could also prevent the NHS from identifying individuals with contagious diseases and result in further costs to the NHS should a patient's condition deteriorate to the extent they require more expensive emergency treatment later on."