Sir Alex Ferguson has lifted the lid on his close relationship with the Labour party - revealing he had dinner with Tony Blair just days before he was elected Prime Minister in 1997.
But Fergie, who released his autobiography on Tuesday, tells of how he actually preferred the politics of fellow Scotsman Gordon Brown.
He even gave Tony Blair a warning to keep colleagues like Brown under control to prevent them being a problem to his authority.
FERGIE LABELS KEANE A 'JOKE' IN BOOK
BECKHAM 'SURRENDERED' CAREER TO MLS, CLAIMS FERGIE
FERGIE ON TÉVEZ, RONALDINHO, DI CANIO AND HARGREAVES
"I've always been on the left of the party, which explains my high opinion of Gordon Brown's work. John Smith's too. The late John Smith would have been a fine Labour prime minister. I felt sorry for Neil Kinnock: a good guy with bad luck," writes Sir Alex.
"I would have loved to see him in Downing Street. He had a fiery nature. I was closer to Brown in principle but accept that Blair's more populist way was the way to get elected.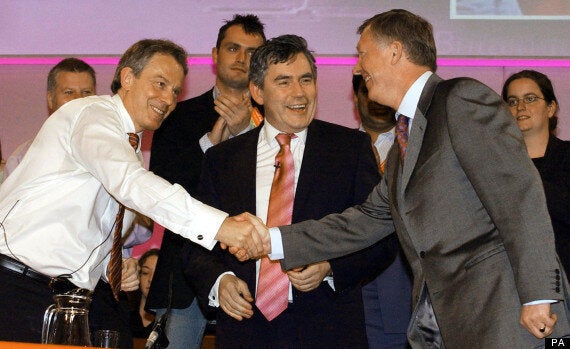 "He was correct in his positioning. Plus, he had charisma to go with it and was popular for a long time until the invasion of Iraq undermined the public's view of him."
Speaking about Alastair Campbell he says: "We became good friends through his role in the Labour party.
"I had dinner with Alastair, Tony and Cherie in the Midland hotel in Manchester the week before the 1997 election. I told Tony 'If you can keep your government in one room and lock the door you'll have no problems. The problem with government is that they all fly off on their own, they have their own allies, their own journalistic contracts. Controlling the cabinet is going to be the hard part.'"
Meanwhile, Fergie revealed Ruud van Nistelrooy burned his bridges with Manchester United when he insulted Sir Alex Ferguson during the club's 2006 League Cup final win.
Van Nistelrooy was a substitute for the 4-0 mauling of Wigan as Louis Saha, who had scored in his previous four games in the competition, started alongside Wayne Rooney.
Nemanja Vidić and Patrice Evra, who had joined United the previous month, were introduced to give them a "smell of winning".
"You ****," Ferguson claims Van Nistelrooy called him in his autobiography. "I'll always remember that. Could not believe it. It became fractious in the dugout. The other players were telling him: 'Behave yourself.'
"But that was the end of him. I knew we would never get him back. He'd burned his boats. After that incident, his behaviour became worse and worse."
Popular in the Community