Phillip Schofield spent two hours googling paedophile rumours before his bungled attempt to ambush David Cameron live on air, it has emerged.
After the list was briefly visible on camera, ITV paid damages to Lord McAlpine, who was wrongly implicated in sex abuse allegations following a BBC Newsnight programme.
On Wednesday, Ofcom, the broadcasting watchdog, upheld a complaint on behalf of McAlpine of 'unjust or unfair treatment', and said the programme had been a breach of the broadcasting code.
ITV told Ofcom Schofield had actually spent about two hours on the internet the night before the programme, preparing for the stunt.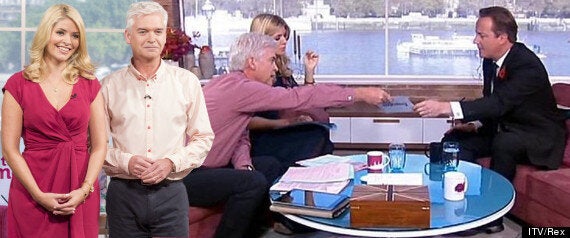 ITV and Schofield apologised for the stunt
He raised his idea in the morning editorial meeting, but the duty lawyer was not consulted and after agreeing to print the names on a printed card, Schofield rewrote them at the last minute in his own handwriting because he feared the title, "Names For Cameron", was disrespectful to the Prime Minister.
Ofcom said it had received 473 complaints from viewers who were offended by Schofield's tactics.
In its report, Ofcom said the stunt had been "misconceived", and although McAlpine's name was not visible on the list, coupled with social media rumours it made the Tory peer identifiable.
While Ofcom accepted ITV's position that the broadcast of the list was inadvertent and unintentional, Ofcom considered that the potential harm to anyone who was potentially identifiable on the list was significant, and that the fact that such an error of judgement took place in relation to such serious and significant allegation was indicative of the failure of adequate preparation and compliance of the programme in general to ensure that it did not breach the requirements of the Broadcasting Code.
Ofcom also found against the Newsnight programme.
A spokesman for the watchdog said: "Ofcom has today found both the BBC and ITV in breach of the Broadcasting Code for programmes broadcast in November 2012.
"In-depth investigations were conducted into the fairness issues raised by the broadcast of a BBC Newsnight report on child sex abuse allegations and by the broadcast of a list of names of individuals alleged to be linked to child sex abuse on ITV's This Morning. Both programmes included significant allegations about Lord McAlpine, which turned out to be wholly untrue.