After MPs and peers approved gay marriage earlier this year it seems entirely appropriate that parliament should play host to one of the first engagements between a gay couple.
The deputy editor of Pink News, Joseph Patrick McCormick, took advantage of an awards ceremony hosted by his website in Speaker's House to propose to his partner James in front of John Bercow and Nick Clegg on Wednesday evening.
McCormick said: "I've been thinking of popping the question to James for a little while and I thought that there could be no better location to do so than in Parliament itself and in front of Nick Clegg, the man who kicked off the moves towards same-sex marriage."
Having heard the news, Clegg, who received a special award for his contribution towards same-sex marriage said: "James, Joseph – brilliant that you should be able to propose, and have your proposal for marriage accepted in such a lavish setting."
The deputy prime minister added: "When I think back to when I proposed to Miriam fifteen years ago, it was when we were standing alone on a windy rural railway station platform in rural Lincolnshire on our way to Sleaford."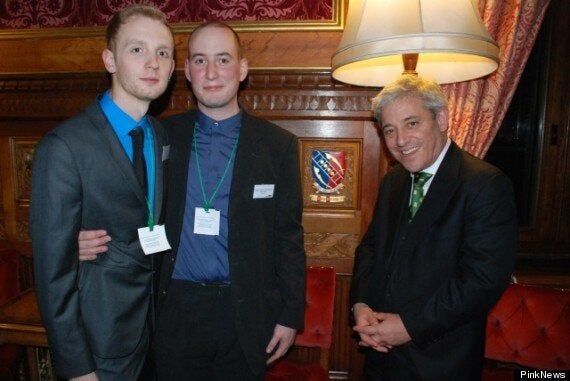 Labour's Yvette Cooper, who was named as Politician of the Year added: "I think that I was certainly accused and, I think Maria [Miller] was as well, of only showing so much enthusiasm for this legislation because we were angling for wedding invitations! I can say that this is not true! " Pointing over to McCormick, she added "However, I really have a nice hat, therefore, any offers are very welcome!"
Today, writing for PinkNews, David Cameron said: "I would like to congratulate all the winners of these inaugural awards held in the State Rooms at Speaker's House in the Palace of Westminster yesterday evening. They are recognition of the hard work many have done in Parliament and across the country to support the LGBT community and bring about greater equality.
Popular in the Community