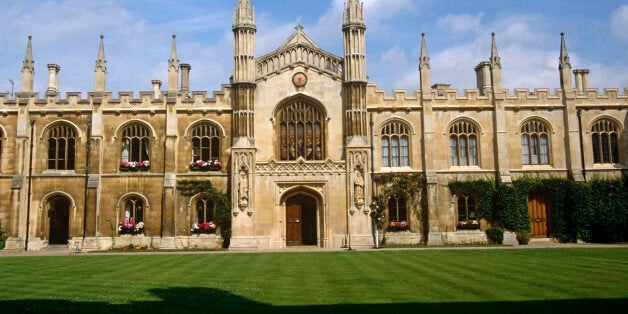 A record number of students have applied for a place to study at Oxford and Cambridge next year, but the gap between rich and poor applicants remains sky high.
Cambridge University has received more than 16,500 applications from youngsters hoping to begin studying a degree next autumn, while Oxford University said that 17,480 applications had been submitted for its degree courses.
But statistics released on Thursday showed that students from disadvantaged areas are still three times less likely to go into higher education than their more advantaged peers.
The figures come as the admissions service, Ucas released the numbers of students who have already applied to start university next year.
The data, which covers only students who had applied for medicine, dentistry, veterinary courses or Oxbridge by the October 15 deadline, show a slight rise in applications.


Overall, 58,200 people in the UK and overseas had submitted their applications by this date, compared with 56,810 last year.
Cambridge said that its application figures - which are at the highest since the University's record began - was down to extensive outreach work and a "high-profile commitment" to ensuring that all students have a fair chance of a place.
Dr Mike Sewell, director of admissions for the Cambridge colleges, said "It is great to see a record number of students who feel confident that they will be competitive applicants to Cambridge. Cambridge is committed to evidence-based admissions decisions, which take into account a student's most recent exam results.
"Our applicants know that their applications will be assessed fairly on their track record, and that places will be won based on academic factors alone."
Ucas's figures show that 36,120 students in England applied by the October 15 deadline, compared with 35,970 at the same point last year.
In Northern Ireland, 1,020 applied by this point, down from 1,130, in Scotland 2,120 applications have been submitted, compared with 2,080 last year, and in Wales there have been 1,480 made, up from 1,410 last year.
There have been 6,230 applications from EU students, compared with 5,970 last year, and 11,230 from overseas students outside of the EU, up from 10,240 last year.
Ucas chief executive Mary Curnock Cook said: "It is encouraging to see that the number of UK applicants for these demanding courses is holding steady, particularly as the young population continues to fall in this group.The number of international applicants is up by 10%."
Top universities have been under increasing pressure to show the measure they are taking to ensure that all students capable of studying for one of their degrees has a fair chance of getting a place, regardless of their background.
Data published by the Higher Education Funding Council for England (HEFCE) shows that in the late 1990s, teenagers living in areas of England where high numbers of students went into higher education were four times more likely to study for a degree than those living in areas where few people chose to continue their education.
By 2011/12 this had narrowed with those living in "high-participation" areas three times more likely to go to university than those in areas of "low-participation".
But HEFCE's report adds: "Young people in the most disadvantaged areas would need to treble their participation rate in order to match the rate of those from the most advantaged areas."