 Bournemouth News/REX USA
First we brought you 'Chooky Wook', the visually-impaired and aquatically-incompetent chicken, then we discovered High-Vis chicken bibs, the greatest pet safety accessory of all time.
Now, in the latest of our chicken themed stories, The Huffington Post UK have discovered handcrafted chicken coats, and they are adorable.
It's getting chilly, and even chickens are not immune to the winter cold.
After rescuing two chickens from a battery farm, one couple needed to come up with a way to keep their new pets from freezing in their backyard over the next few months.
So Trevor and Samantha Stickley enlisted a tailor in Bournemouth to fashion jackets for their chickens, Margo and Valerie.
(Story continues below) Sam Old, manager of the Zip Yard, measures Margo the chicken for her specially made jacket in Bournemouth, U.K. (Bournemouth News/REX USA) Old shows the pattern used to create the chicken coats alongside completed jackets.

(Bournemouth News/REX USA) Margo and Valerie try on their specially made jackets. Now that's some serious #chickenswag. (Bournemouth News/REX USA)
Despite the eccentricity of the request, a tailor shop called the Zip Yard was not deterred and managed to create two chicken-sized jackets.
"We have never worked with animals before and it was the weirdest request we have received but we were happy to help," a spokesman for the Zip Yard said, according to the Bournemouth Echo. "They were our most bizarre customers but they [were] very well behaved."
While the handcrafted coats might not be as flashy as High-Vis (short for high visibility) chicken vests the jackets will help the rescued hens stay toasty during the chilly winter.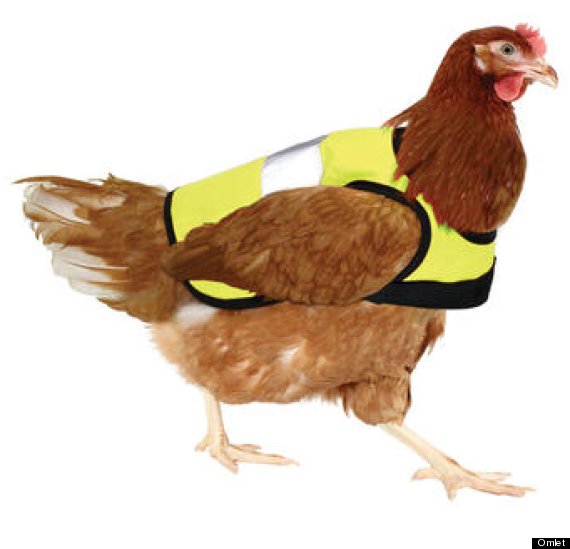 The stunning chicken ensemble