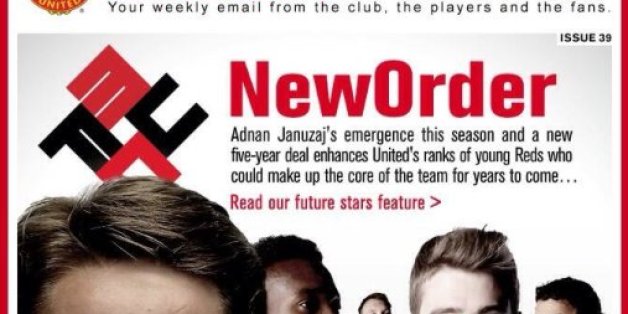 Manchester United
Manchester United has been forced to apologise after a logo similar to that used by the Nazis was sent out to millions of fans in a newsletter.
The questionable Swastika-style logo featured alongside the Nazi affiliated title "New Order."
The similarities between the logo, which spelt out the letters MUFC, and the Nazi symbol were pointed out by furious social media users:
@ManUtd wow,way to go with the quasi swastika graphic there guys. and the 'new order' strapline too. just....wtf.

-- Dave Cochrane (@davecochrane) October 27, 2013
Manchester United = Nazi. See the Swastika pic.twitter.com/FP43QL7DCD

-- Suleiman Zakie (@SuleimanZakie7) October 27, 2013
What are @ManUnited thinking with the design of their newsletter? That's an appallingly bad decision! pic.twitter.com/Jim4sjJHUm

-- David Roberts (@dairoberts) October 25, 2013
That *very* unfortunate United tribute to the third reich pic.twitter.com/9yBaf97UTL

-- United Rant (@unitedrant) October 26, 2013
Manchester United said any offence caused was "entirely unintended".
It said the title related to the band New Order, and that the feature was about the club's young players.
Not really doing the club any favours, the BNP weighed into the row, branding the reaction to the logo "hysterical."
"What sad, insecure and neurotic people some of us have become," the far-right group posted online.
But United's head of media, David Sternberg, apologised for the graphic on Twitter and revealed that the club will launch an investigation into why it was cleared for publication.
@davidlsternberg@dairoberts As a Man Utd supporter, I say this is unacceptable. This is no faux pas. Heads must roll for this.

-- Holly D (@Holly_Da) October 27, 2013
"The creative is completely inappropriate; we apologise unreservedly and are taking appropriate international action," Sternberg tweeted.
A grovelling statement emailed to fans said the club was very sorry for the gaffe.
"In this week's United Uncovered email newsletter, a graphic spelling the letters MUFC ran alongside a feature about Manchester United's younger squad members entitled New Order," it read.
"While the headline was intended to reference the band of the same name, it has been pointed out that the graphic had design similarities to a swastika which, combined with other connotations of the phrase 'new order', has caused offence which was entirely unintended."