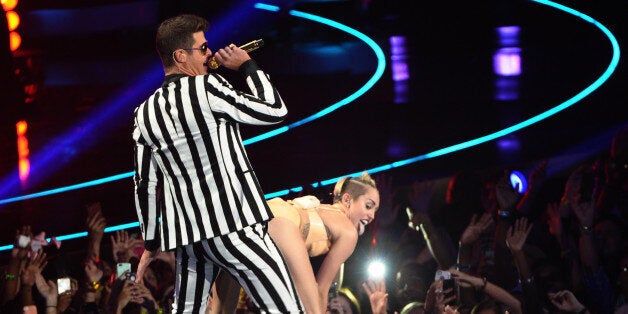 A US school has made its students sign a contract promising they will not twerk, grind, or dance sexually at their prom - and if they break it, they'll be kicked out.
Annapolis High School in Maryland refused its pupils entry to their homecoming dance unless they, and their parents, had signed on the dotted line.
Twerking, which rose to fame thanks to Miley Cyrus and that VMA performance, has now become a routine dance move among students, with thousands uploading videos to YouTube featuring themselves performing the craze.
Miley Cyrus made twerking famous in her VMA performance with Robin Thicke
According to WJZ, the contract states "no grinding, intimate touching or dancing with your buttocks touching or in the air".
The county's school spokesman Bob Mosier said: "Dances have become more provocative in recent years, and we've had some issues at schools frankly."
Related