November's issue of Private Eye, which features former News of the World editor Rebekah Brooks, has prompted the judge in her phone-hacking trial to call it a "joke in especially bad taste".
Brooks and ex-spin doctor Andy Coulson are accused of conspiring with others to illegally access voicemails while working at the News of the World.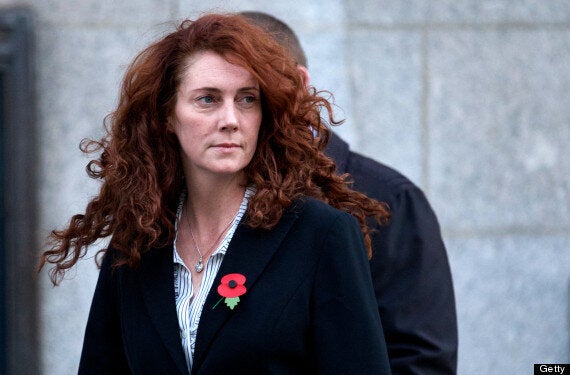 Brooks and Coulson are on trial this week
The jury on the trial were sworn in on Tuesday afternoon with Mr Justice Saunders stressed the significance of the trial but also made special reference to the satirical news magazine.
He said: "In this case in a way not only are the defendants on trial, but British justice is on trial.
"It is absolutely vital that you decide this case solely on the evidence and the arguments that you hear in court.
At this point he held up a copy of November's Halloween special edition of Private Eye.
He said: "Unfortunately Private Eye has seen fit today to put out their November edition. You will undoubtedly see it on the newstands, so I can show it to you.
"It bears a picture of Rebekah Brooks on the cover. It's meant to be satire. You ignore it. It has no serious input and it is not relevant to your considerations.
"It is one of those things that you will have to ignore - a joke which in the circumstances of today is a joke in especially bad taste.
The Metropolitan Police were looking into reports the magazine was being removed from sale around the court.
Padraig Reidy from the Index on Censorship confirmed a vendor had been told there may be contempt of court issues.
Brooks, 45, of Churchill, Oxfordshire, and Coulson, 45, from Preston in Kent, are both accused of conspiracy to intercept communications in the course of their transmission.
They allegedly conspired with former News of the World (NotW) head of news Ian Edmondson, 44, from Raynes Park, south west London, the tabloid's ex-managing editor Stuart Kuttner, 73, from Woodford Green, Essex, and others to illegally access voicemails between October 3 2000 and August 9 2006.
Ex-NotW and Sun editor Brooks is also charged with two counts of conspiring with others to commit misconduct in public office - one between January 1 2004 and January 31 2012 and the other between February 9 2006 and October 16 2008 - linked to alleged inappropriate payments to public officials.
She faces another two allegations of conspiracy to pervert the course of justice - one with her former personal assistant Cheryl Carter, 49, from Chelmsford in Essex, between July 6 and 9 2011.
It is alleged that they conspired to remove seven boxes of material from the News International archive.
The second count alleges that Brooks, her husband Charles Brooks and former head of security at News International Mark Hanna conspired together and with others between July 15 and July 19 2011 to pervert the course of justice.
It is claimed that they tried to conceal documents, computers and other electronic equipment from police officers who were investigating allegations of phone hacking and corruption of public officials in relation to the News of the World and The Sun newspapers.
Former No 10 spin doctor and ex-NotW editor Coulson is also facing two allegations that he conspired with the tabloid's former royal editor Clive Goodman, 56, from Addlestone in Surrey, and persons unknown to commit misconduct in public office - one between August 31 2002 and January 31 2003, and the other between January 31 and June 3 2005.
All eight defendants are on bail and the case was adjourned to tomorrow at the Old Bailey.