Around 60 immigrants left the United Kingdom voluntarily because of a Home Office campaign, but the government cannot prove that the so-called 'racist vans' had any specific impact on their removal.
This included not only the van's 'mobile billboards' but also adverts in shop windows, adverts in newspapers and magazines, leaflets and posters advertising immigration surgeries in faith and charity group buildings.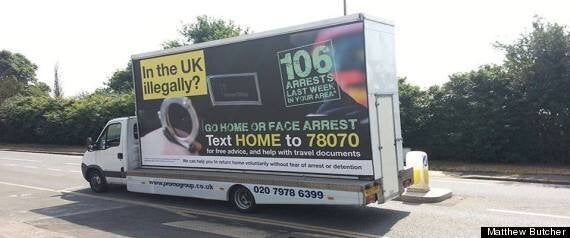 The controversial vans have left the streets
"The most cost-effective communications were the adverts, leaflets and posters that advertised immigration surgeries in faith and charity groups, rather than the advertising vans or other forms of advertising used in the operation," Harper admitted.
The pilot cost £9,740. Harper claims the 60 voluntary departures, attributed to the scheme as a whole and not specifically the "racist van", represent a notional saving of £830,000 based on the average £15,000 cost of an enforced removal.
The evaluation report also identifies a further 65 cases that are currently being progressed towards departure.
Last week, home secretary Theresa May admitted the vans were "too much of a blunt instrument" and will not be rolled out nationwide.
Harper reiterated that opinion in his statement, saying the vans "will not be used again".
"It is better for both the UK taxpayer and offenders themselves if offenders leave the country voluntarily rather than in an enforced manner," Harper said, with forced removals costing the taxpayer 15 times more than voluntary exits.
Popular in the Community