Disney's stable of Princesses have had many, many makeovers, and very little of them have been favourable.
Ariel lying dead on a beach and the tragic demise of Cinderella after slipping down a staircase and breaking her neck, are just some of the dark reimagings by French artist Thomas Czarnecki.
Simone Rovellini incorporated our heroines into her Exploding Actresses project, in which Snow White, Belle and Jasmine are blown to smithereens.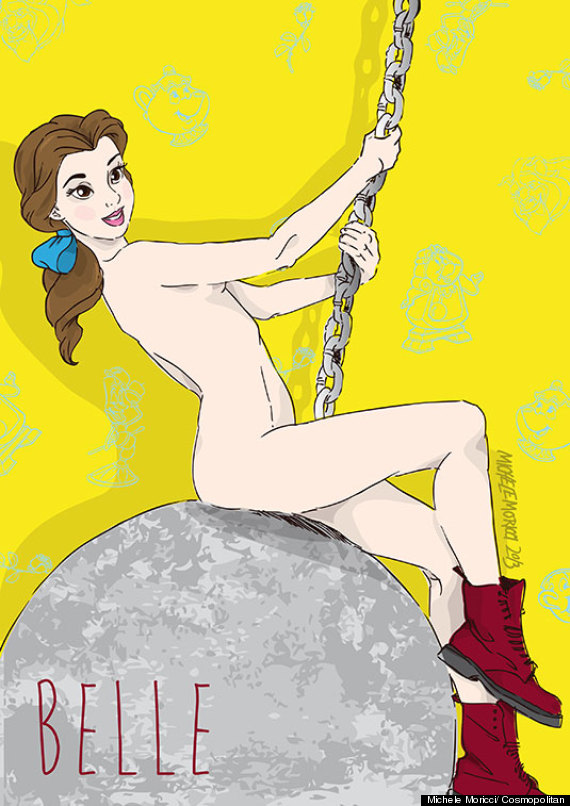 Belle came in like a wrecking ball
And probably least likely of all, one web video turned the stereotypical damsel in distress concept on its head and recast the ladies as the rescuers.
Now, they have been reimagined as… Miley Cyrus.
Accessorised with a bare minimum of props including a foam finger, acres of naked flesh and a wrecking ball, here are Belle, Cinderella, Mulan and Tiana as you've never seen them before.
The images are by Italian artist MicheleMoricci and were commissioned by Cosmopolitan magazine.
Moricci told HuffPost UK: "I was thrilled to give my own touch to childhood princesses acting and dressing like Miley.
"These princesses are still innocents but have a stronger personality. They are a true expression of our contemporary society."
Do Moricci's illustrations bring Belle et al into the 21st century or are they the most undignified reinvention of the Disney Princess yet? Let us know in the comments...