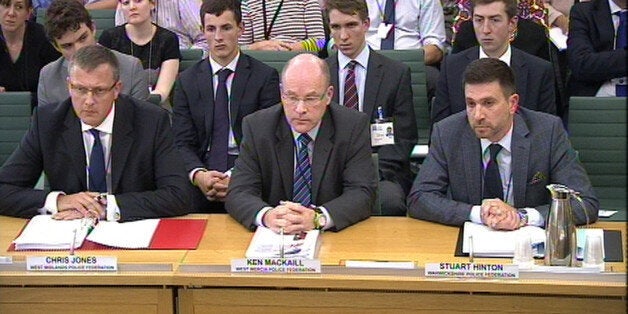 MPs have launched an brutal attack on police who are accused of stitching up former government minister Andrew Mitchell.
The account given by Police Federation members of the 'plebgate' scandal "could rival any great work of fiction", the Home Affairs Select Committee said.
The MPs said they were "appalled" by the evidence given by the three officers when they appeared in front of the committee last month, saying they had been "misled".
They now face a fresh probe by the Independent Police Complaints Commission.
Mitchell quit after he was accused of calling officers 'plebs' in a row at the gates of Downing Street.
After he held a meeting with Police Federation representatives Inspector Ken MacKaill, Detective Sergeant Stuart Hinton and Sergeant Chris Jones, the officers told the press he had not explained himself.
But Mitchell had recorded the meeting, and had in fact given a full account what he had said to the three men.
The officers made an uncomfortable appearance before the select committee last month.
On Sunday, Vaz said: "We were appalled by the evidence given by DS Hinton, Sgt Jones and Inspector MacKaill.
"It is now clear that DS Hinton and Sgt Jones misled the Committee, possibly deliberately. We have recalled them to correct the record and if they do not, they will be in prima facie contempt of Parliament.
"We are also concerned that the chief constables of Warwickshire and West Midlands have not re-determined their conclusions to this investigation.
"This matter has been hugely damaging to the public's perception of the reputation of the police officers involved, the Police Federation and the force itself."
He went on: "The narrative of what we have seen could rival any great work of fiction. At every point and at every level, instead of being transparent, we have uncovered a process that obstructs the truth. If this can happen to a Cabinet minister, what hope is there for anyone else?"
The trio were originally told that they would face no disciplinary action after senior officers disagreed with Chief Inspector Jerry Reakes-Williams who found they had a case to answer for misconduct.
But IPCC deputy chairwoman Deborah Glass said there were "procedural irregularities" in how a final report on the matter was drawn up.