Foreign Office minister Baroness Warsi has slammed "ignorant" Fox News and suggested the United States is not as "sophisticated" as Britain in how it approached international relations.
Warsi, Britain's most senior Muslim politician, was speaking at the Council on Foreign Relations in Washington DC on Friday. She made the comments as she sought to highlight the persecution of Christians around the world, especially in the Middle East.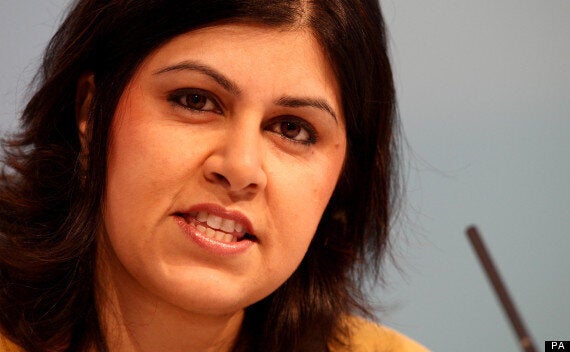 Warsi was speaking at the Council on Foreign Relations in Washington DC
"Despite Fox News having a slightly skewed version of the world I will hopefully not be questioned why, as a Muslim, I am talking about Christian issues," she said.
Warsi appeared to reference an interview with author Reza Aslan [see below] in which the presenter questioned why a Muslim would write a book about Jesus.
"There was an interesting issue where some guy was asked why as a Muslim he was interested in Christian issues," Warsi said. "I thought 'how ignorant can you be'. To be a Muslim you have to be a Christian first. Jesus came before Muhammad, they are both prophets, it's all part of a journey."
"The fact that this is even a question shows there is a level of illiteracy. Fox News needs training on religious literacy." She added: "Oh dear did I just say that openly."
Warsi, who is faith and communities minister as well as the senior Foreign Office minister under foreign secretary William Hague, criticised "secular fundamentalism" which wanted there to be "no faith voice in the public sphere".
"I regularly hear from secular voices that there should be no faith voice around the table," she said. "I think they both have a voice. Why should it stop being an informer of debate?"
Warsi admitted she was probably likely to "get into a lot of trouble" after she told an audience made up of serving and former US State Department officials that Britain has a more nuanced approach to foreign affairs.
"I think Britain is quite uniquely sophisticated in its understanding of the world in a way the US is not," she said. "That comes from much of our own history and much of our connection."
And she said that in her foreign travels as a diplomat she was often told by foreign officials that Britain was "not like the US" and understood the world in "a slightly different way".
She added: "If was sat in the US [I would ask] why is that, why are we not as nuanced and as sophisticated. I think in more recent times you probably have been."
Speaking from her own family's experience she noted that her grandparents had served in the British Army before her parents had even moved to Britain from Pakistan. "Even before my parents hit the shores of the UK they had over half a century's relationship and Britain had half century's understanding. It's what nuances our understanding," she said.
Warning about the persecution of Christians around the world, she said some other religions saw their Christian neighbours sadly as "fair game" and we given "collective punishment" for the perceived wrongs of the West.
"I think what concerns me is these communities, who have helped to shape the cultures and communities where they live, are now being seen as outsiders," she said.
Reza Aslan On HuffPost Live:
Popular in the Community