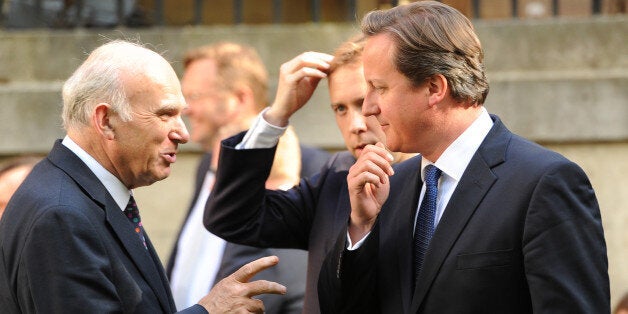 Speaking to the Huffington Post UK, the Liberal Democrat business secretary accused Cameron of "politicking" in the run up to the 2015 general election.
"I didn't understand his comments. My impression is the coalition works well and we've had to deal with some massive challenges.
"I think we are seeing more politicking in the run-up to the next election, but the idea that the LibDems are holding back economic policy is completely and utterly wrong and I don't buy that at all."
Cable's comments, speaking at the launch of the Global Entrepreneurship Week in London hosted by Youth Business International, came in response to Cameron's attack on the Liberal Democrat's influence in government during a recent visit to India.
"We have shown it can work," the PM said in New Delhi. "There are some good parts to coalition. You have to proceed in quite a rational basis - that is good. I think what's bad about it is that sometimes you have to make compromises that are not necessarily in the long-term interests of the country."
Cameron did not provide any examples of how the coalition has been foiled in its pursuit of the national interest, but argued: "I prefer a more decisive form of government. I think what the British people want is a government with a very clear plan, that acts on that plan. If the plan works then keep them in; if the plan doesn't work then kick them out."
Lib Dem leader Nick Clegg said, in response, last week: "Of course there are compromises the Conservatives have made that they don't like.
"They wanted to say that employers could fire any employee at will and the Liberal Democrats said 'No, you can't do that'. They floated a plan of having profit-making state schools and we said 'No'. I happen to think those are things we blocked because it wasn't in the national interest to do so."