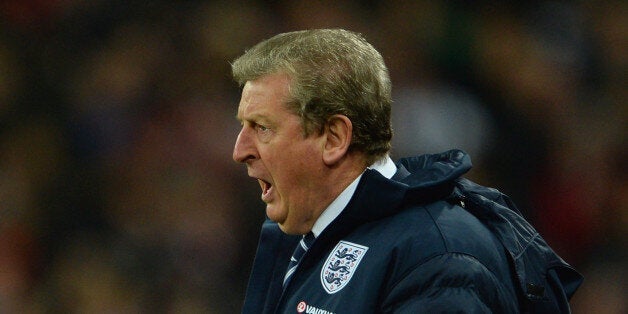 Two wins in October were marred by his monkey joke and two defeats in November have left Roy Hodgson in danger of becoming the punchline. Germany's fourth consecutive win at Wembley left the England manager in a spiky mood as he struggled to mask his player's shortcomings with some bizarre excuses.
Rather than dismiss two friendlies glibly, Hodgson was agitated by the outbursts of instant criticism. The losses to Chile and Germany would not "take the shine off a very good year" and he reminded there was "an awful lot to look forward to", as England brought down the curtain on 2013.
Gallingly for Hodgson, this was far from Germany's first-choice line-up. Manuel Neuer, Philipp Lahm, Sami Khedira, Bastian Schweinsteiger, Mesut Özil and Thomas Müller were not even in Germany's matchday squad. Yet he even disputed the visitors were not at full strength.
"We don't know that either," Hodgson replied when one journalist suggested he should be worried to lose to a makeshift German team. "It would be interesting to see how many of the players play in Brazil. I think it would be unfair to suggest that was a weak German team."
Without Michael Carrick, Theo Walcott and Danny Welbeck, Hodgson understandably refuted the suggestion he had fielded his strongest England side, albeit in a prickly manner.
"I don't think you should be discussing what my first-choice lineup is," he shot back. "There's a lot of players to be assessed and discussed. I'm not prepared to say this was our first-choice line-up."
Yet considering how often the England XI changes Hodgson himself might not know what his first-choice side is. Questions remain over who starts at full-back, who partners Steven Gerrard in midfield and whether Welbeck regains his place in the side, let alone Joe Hart's status as No.1.
England 0-1 Germany: Too Many Players Not Justifying Roy Hodgson's Faith
With England anodyne in attack again, their coach remained on the defensive when it was suggested the team lacked leadership in defence.
"Gary Cahill was rested tonight, wasn't he?" he replied rhetorically. "I thought Chris Smalling actually played well. So I don't know if I would accept that criticism at the moment.
"Thinking about the corner kick, we knew corner kicks were going to be a major problem for us because of Mertesacker and the other big guys they have in their team. We, actually, tonight weren't at our tallest."
That last sentence could haunt a coach, who is an unashamed pragmatist, in an age when Spain's pint-sized playmakers have dominated world football.
The qualifying wins over Montenegro and Poland last month suggested England were making headway after a gritty 18 months under Hodgson, but he became remarkably desperate when told his team didn't have a shot on target on Tuesday night.
"What about Townsend's shot that hit the post? Does that count."