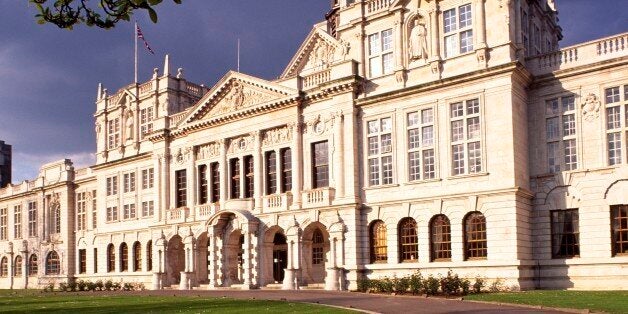 A university football team has been slapped with a two-week playing ban after delivering a presentation on how to sleep with women who have low self-esteem - to a group of female students.
The speaker, from Cardiff University Football Club (CUFC), also allegedly made light of date-rape and domestic violence.
The team is now banned from taking part in all activity from playing to training.
In an unprecedented punishment, the club has also been barred from playing rival Swansea University in its annual Varsity fixture, which is often students' sporting calendar highlight.
University chiefs have also publicly condemned the club for what it described today as a "gross breach of the university's student code".
Those who organised and put on the event have been handed a suspension which bans them from all university sports venues and football club activity.
The club itself has also been ordered to develop training which promotes an understanding of equality within the club and to its members.
The controversial comments were reportedly made in a PowerPoint presentation at a social event in Cardiff nightclub the Vulcan Lounge on November 6.
The South Wales university soccer club had got together for the evening with a university dance society called Funky Arse Dancing (Fad).
Details of what happened at the evening appear in the university's student newspaper, Gair Rhydd.
"The content of the presentation was based around a self-deprecating analysis of the club member who delivered it and his lack of success attracting girls," the newspaper reports.
"It then proceeded to focus on how to spot girls with low self-esteem as they 'are easier to have sex with', according to those in attendance."
A shocked member of the dance group said: "It was totally unacceptable. All of the girls were forced to the front to watch a PowerPoint which made light of girls with low self-esteem, spiking girls' drinks, domestic violence and even rape.
"These are all real life issues facing women (and men) today and we should not have to deal with this kind of 'lad culture' anywhere, but especially in the university environment."
The student newspaper adds that the presentation "drew widespread criticism as well as an official complaint".
As a result, Steve Wilford, the Students' Union director of membership, imposed the ban which was announced after an inquiry and took effect from last Thursday.
"In my 12 years of dealing with students' sport, this is the first time I've ever had to take the decision to prevent people from playing," he is quoted as saying.
A statement released by Fad, printed in full in the newspaper, said: "It is important to acknowledge that this presentation was given by CUFC; Fad was not aware of its content or even that it would be shown and in no way endorses or condones any of the views expressed.
"Whilst it was evident to everyone in attendance that the presentation represented a serious lack of judgment and was an error on behalf of the football boys, their immediate unreserved apology, and remorse expressed, indicated that there was no malicious intent and that the presentation was intended as a joke (despite being wildly inappropriate and misplaced).
"There have never been incidents such as this on previous joint socials and Fad wishes to extend their apologies to anyone that was offended or otherwise affected by the presentation."


A letter written on behalf of the Students' Union, Athletic Union and University Sport, to the Football Team's committee, said: "There can be no justification for the actions of those involved in delivering or arranging the delivery of such content.
"There are no mitigating circumstances that the intention was to deliver the content in private and we are disappointed that, although there was an apparent lack of knowledge of the planned delivery of this presentation, we have heard no suggestion that any individual or committee member present made any effort to intervene, nor was any retrospective action taken until the matter was brought to our attention."
A university spokesman said: "The university is aware of a complaint received by the Students' Union regarding the conduct of the football club at a social event. The university strongly condemns any conduct that demeans either women or our culture of equality and diversity.
"This marked a gross breach of the university's student code, the Athletic Union's behavioural code and fell short of basic respect and decency.
"We are resolutely committed to eliminating discrimination wherever it might occur and will take all appropriate steps to ensure that similar incidents are not repeated.
"Since the incident, the university has been working closely with the Students' Union to investigate this matter in order to understand how and why this incident was able to occur.
"The investigation concluded that the football club should withdraw from their Varsity fixture and be suspended from all activities, including playing and training, for two weeks."
Have you been subjected to sexism at your university or college? Email ukstudenteds@huffingtonpost.com confidentially.