If you thought vajazzles were a step too far along the road to Bling City, think again.
Bedazzled lady gardens are so last season... now women are flocking to have jewellery inserted into their eye. Yes, their eye.
The procedure has grown in popularity across Europe and Los Angeles, but Lucy Luckayanko, is the first woman to bring the bling to New York.
The $3,000 plan only takes a minute, but the eye-catching effect will last a lifetime...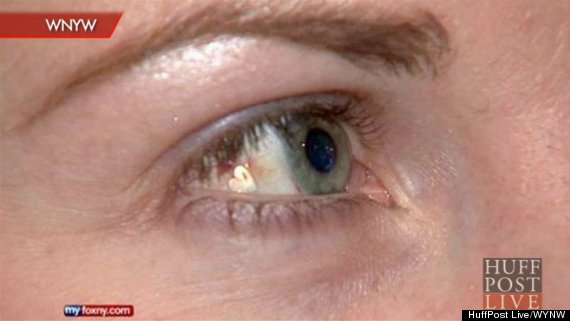 Lucy chose to have a small platinum heart implanted into her eye.
"It's going to be a conversation maker," Lucy Luckayanko, the first New York resident to have the procedure, tells My Fox NY. "I will be able to tell people. It will be unique. It will be sort of my unique factor."
Her surgeon Dr Chynn insists the procedure, which was invented by a Dutch eye surgeon and introduced in 2004, is pretty safe.
"It's a very thin piece of platinum that's designed for insertion on the top of the eye, it's not in the eye so there's no risk of blindness or anything at all," he tells My Fox NY. "She could have a little bit of local bleeding. That could go away in a couple days or couple weeks. She could have an infection but we'll prevent that with antibiotics."
But the jewellery has not been FDA approved and the American Academy of Ophthalmology is warning consumers about the dangers.
What do you make of the procedure? Let us know in the comments below