A handful of bone fragments found in a shoebox, said to be the remnants of St Peter, are now on public display for the first time.
Nestled in a jewelled box, inside a bronze display case, Pope Francis prayed beside the nine pieces of bone at Mass on Sunday, holding the box to his breast for several minutes.
The Vatican has never said, conclusively, that the bones do belong to St Peter, the first pope and Holy Apostle.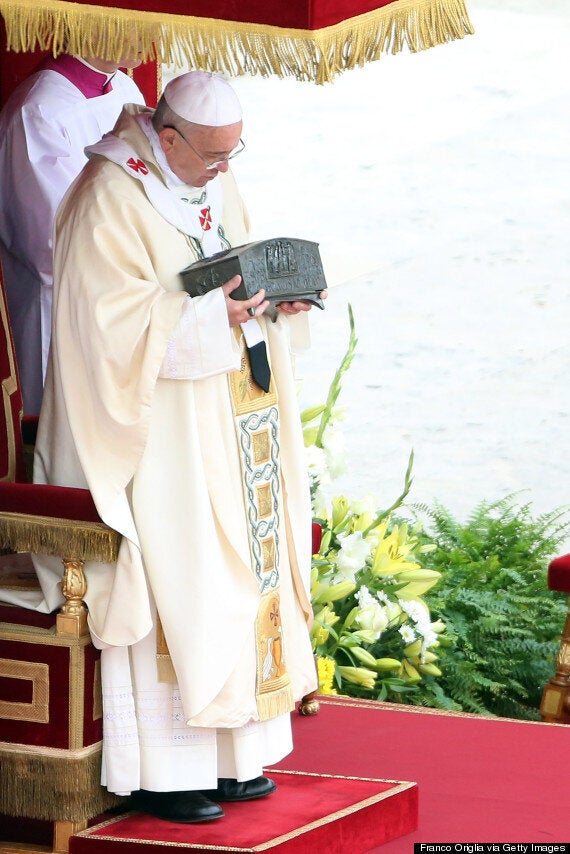 Pope Francis holds relics of St. Peter the apostle, (fragments of bone) for the veneration of believers
First discovered during excavations under St Peter's Basilica in 1939, the fragments have divided opinion among archaelogists.
Archaeologist Margherita Guarducci discovered markings near the excavated tomb reading "Petros eni", translated as"Peter is here". Tests on the fragments found they belonged to a 60-70-year-old man, buried in purple and gold cloth.
Pope Paul VI said in 1968 that the fragments found in the Vatican had been "identified in a way that we can consider convincing".
But the meaning attached to the bones and to St Peter's tomb is so great that the authenticity of the bones misses the point, Vatican official Archbishop Rino Fisichella suggested last week.
"It's not as if pilgrims who go to the altar (of Peter's tomb) think that in that moment in which they profess their faith that below them are the relics of Peter, or of another or another still. They go there to profess the faith," he said at a news conference.
Long-time Vatican correspondent Bruno Bartoloni wrote in 2012 that no Pope had ever permitted an exhaustive study, "partly because a 1000-year-old curse attested by secret and apocalyptic documents, threatened anyone who disturbed the peace of Peter's tomb with the worst possible misfortune."
Popular in the Community