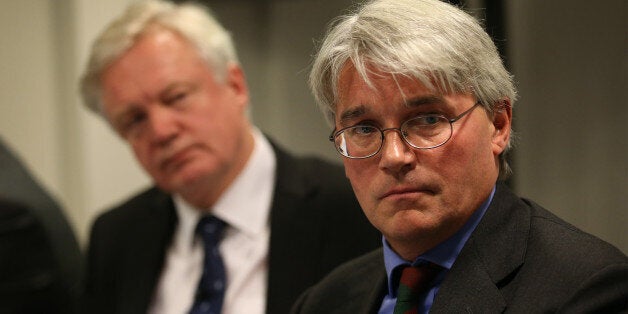 Andrew Mitchell has described how the accusation that he called a police officer a "pleb" not only cost him his career but led to him being "spat at" in the street.
The former Tory chief whip angrily repeated his denial of the claim made by a officer guarding the gates of Downing Street. Speaking at a press conference in central London on Tuesday, Mitchell denounced the decision by the Crown Prosecution Service not to bring charges against Pc Toby Rowland.
"Police Constable Toby Rowland who was responsible for writing these toxic phrases into his notebook was not telling the truth," he said.
Mitchell lost his job after being accused of launching into a bitter tirade against police officers while trying to wheel his bike out of Downing Street.
Rowland claims Mitchell said: "You should know your f****** place, you don't run this f****** government, you're f****** plebs."
However Mitchell claims he said just: "I thought you guys were supposed to f******help us".
It was the class-based insult "plebs", rather than the swearing, that ultimately cost Mitchell his place in the cabinet as it re-enforced the image of a Conservative Party out of touch with ordinary voters.
Mitchell said that the armed police officers that guard the prime minister and other senior politicians were guilty of having "stitched up one of those they are supposed to protect."
He said was making the accusation that a police officer had lied with "deep sorrow" rather than anger. "I have told the truth about this incident. The police did not. My reputation was destroyed. I was vilified, relentlessly, over 33 days, with over 800 hate emails received during the course of that first week."
Mitchell said he and his family had been "driven from our home" by journalists camped outside and that he had been "spat at in the street" as well as losing his career.
Mitchell said he was speaking out not for himself and his family but "on behalf of others who may not have been able to fight back against police misconduct" as he had.
Several Tory MPs also attended the press conference in a show of support. And Mitchell's side of the story was explained by former shadow home secretary David Davis with the aid of a power point presentation and video clips taken from Downing Street CCTV.
Davis said Mitchell would have had to say 40 words in five seconds if Rowland's account was to be believed. He told journalists: "According to Rowland, 40 words were spoken, excluding the last response from Mitchell, in that last five seconds. Most people speak at two to three words per second. No one speaks at eight words per second."
However the Crown Prosecution Service said before the press conference that there was insufficient evidence to bring any charges against Rowland.
Popular in the Community