Oxford University's students recently elected a somewhat controversial new president, Louis Trup, who shot to popularity with his flipflop-wearing, crayon-written manifesto.
Condemned by some media organisations as a "joke" and a "spoof", Trup, who won with a landslide victory, has spoken out to defend his "personifesto" (named so as Trup says manifesto was sexist).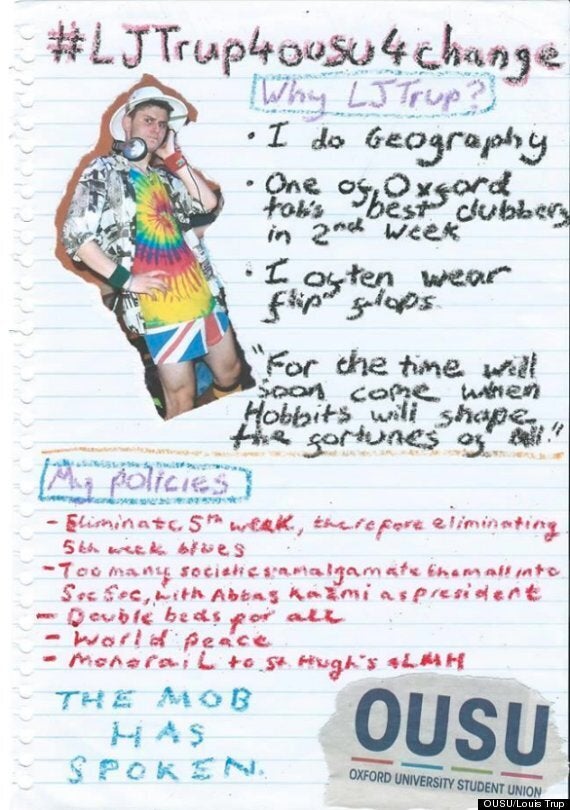 Trup's "personifesto", written in crayon
"There were, undoubtedly, funny aspects to the campaign, which satirically highlighted the issues that students have with the student union," he told The Huffington Post UK. "I was elected on the principle that we need to rethink the way student unions are run, and this is an idea that has been echoed across various campuses in the country.
"Students on the whole are not engaged with OUSU, despite the fact that it does amazing things for every student in Oxford. These perceptions are partially due to the fact that OUSU has been consistently underfunded by the university, limiting its ability to engage with the students it serves."
Trup's musical performance during hustings
"Unless there is some kind of mass awakening in the coming days, the next OUSU president will be from the same political bubble as the past however-many.
"I am clearly not a careerist – a quick Google search of my name will show how unlikely I am to ever get a job anywhere where there is widely available internet access. That's good. OUSU positions should not be seen as stepping stones. We should have fun students working for fun students, not un-fun student politicians working towards a cosy Labour seat in 20 years."
Trup, who will assume his position as president in six months, adds: "I have a fresh perspective on what is a very important organisation. Student unions represent a very unique group, and thus student leadership needs to reflect the specific requirements of this group, which has been done before, but needs to be expanded.
"My key personal aim is to enhance OUSU's position as a support organisation for common rooms, societies, and campaigns as these are at the heart of the Oxford Student body. I do believe that the process of 'rethinking' OUSU is not purely up to the sabbatical officers, but for every student, and so I will look to use the multitude of student voices to make sure we get it right.
"I believe in what my campaign stood for, and the students backed me and the sabbatical team to do a job. We will do it well."
An Oxford University spokesperson said: "Given constraints on resources, the size of the grant allocated to OUSU has to be considered in line with funding levels elsewhere in the university."
One things for sure: Trup is certainly going to make his mark on Oxford.