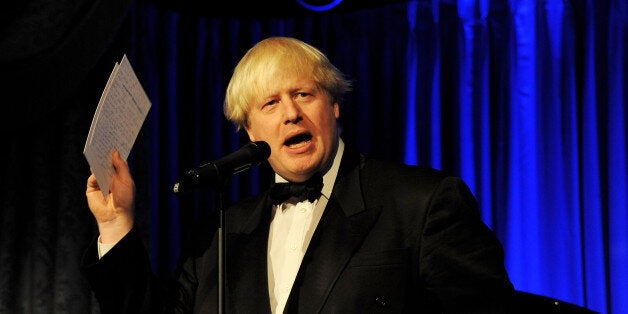 The five things you need to know on Thursday 28 November 2013...
1) GREED IS GOOD, SAYS BORIS
Do the super-rich in the City have a better champion that mayor Boris Johnson? From the Guardian's splash:
"Boris Johnson has launched a bold bid to claim the mantle of Margaret Thatcher by declaring that inequality is essential to fostering 'the spirit of envy' and hailed greed as a 'valuable spur to economic activity'.
"In an attempt to shore up his support on the Tory right, as he positions himself as the natural successor to David Cameron, the London mayor called for the 'Gordon Gekkos of London' to display their greed to promote economic growth.
"Delivering the annual Margaret Thatcher lecture, Johnson also called for the return of a form of grammar schools."
Thanks to interventions such as this, the Tory right on the Commons backbenches will continue to despair at the Cameroon modernizers on the frontbench - while pining for Boris...
Another coalition U-turn? You're joking, right? Nope - from the Times splash:
"Cigarettes are to be sold in plain packaging before the next general election after a U-turn by David Cameron designed to head off Labour claims that he is in hock to the tobacco lobby.
The Government will announce within days that it is pressing ahead with the measure, aimed at making smoking less attractive to the young... The Prime Minister's original decision to shelve the measure last July caused an outcry after it emerged that his chief election strategist was a partner in a firm that had also been advising a tobacco company. Lynton Crosby, who is now employed full time by the Tories, is a partner in CrosbyTextor, which worked with Philip Morris Ltd as it lobbied the Government against standardised packaging.
"Mr Cameron's change comes after the Government agreed to introduce a cap on payday lending, reversing its previous position in favour of Labour's."
3) 'THE IMMIGRATION BACKLASH'
That's the splash headline on the front of the Daily Mail, which is delighted - just delighted! - by the latest developments:
"Brussels was facing open revolt over its no-borders immigration policy last night.
"Hours after David Cameron outlined a crackdown on benefit tourism, France and Germany sensationally followed suit with similar plans.
"The triple assault pushed Brussels on to the back foot... In Westminster, 46 Tory MPs kept up the pressure by signing a Commons motion calling for restrictions on Romanian and Bulgarian workers to stay in place after January 1 because Britain was 'full up'."
Meanwhile, this rather interesting blogpost reveals how most of Cameron's proposed changes, as part of his 'benefit tourism' crackdown, "are already British law".
New immigration figures are out later today.
On a related note, my colleague Jessica Elgot reports:
"John Mann, MP for Bassetlaw, sent a press statement declaring European Commissioner Laszlo Andor was a member of the anti-Semitic Hungarian party Jobbik, after Andor attacked coalition plans to curb benefits for Romanian and Bulgarian migrants, come January 2014."
The Labour MP was forced to apologise after Jessica pointed out to his office that Andar is a member of Hungary's Socialist party, not the country's far-right fascist party.
BECAUSE YOU'VE READ THIS FAR...
Watch this video of a US news anchor ranting about viewers sending in photos of snow-covered furniture.
4) TUITION FEES ALL OVER AGAIN
Will they never learn? My HuffPost colleague Asa Bennett reports:
"Nick Clegg has been accused of a 're-run of the tuition fee scandal' after Lib Dem MPs voted to ensure people could bet as much as £100 per spin on roulette machines, despite Clegg being photographed in support of a campaign to stop their spread.
"Lib Dem MPs John Hemming and former minister Andrew Stunell voted with the Tories to keep the maximum bet of £100 per spin every 20 seconds, equivalent to £18,000 per hour, for fixed odd betting machines (FOBTs), dubbed the "crack cocaine" of British high streets... Labour MP Graham Jones told the Huffington Post UK: 'This is a re-run of the tuition fee scandal when they said we won't make promises on tuition fees, now they are having photographs taken with campaigners, pushing them out and then voting to keep the status quo.'"
5) THE RETURN OF LIB-LABBERY?
Chris Huhne continues to make political interventions. Lucky us. From the Guardian:
"A historic radical coalition of Labour and Liberal Democrats is possible after the 2015 election if the two parties can forgo their tribalism and look for common ground, Chris Huhne, the former Liberal Democrat cabinet minister suggests.
"He says: 'The assumption that the Lib Dem leader Nick Clegg having consolidated a centre right hold on the party is preparing to do a deal with the Tories is wrong.'
"He says an instinctive preference to do a deal with Labour is shared by Liberal Democrat supporters and probably most MPs... The DNA of the Liberal Democrats is anti-Conservative, he insists."
From the Sun/YouGov poll:
That would give Labour a majority of 86.
Alan Travis, writing in the Guardian, says: "David Cameron's migration plans are impractical, inequitable or illegal."
David Aaronovitch, writing in the Times, says: "Most people's assumptions about immigrants are wrong, but politicians cynically play to their prejudices."
Owen Jones, writing in the Independent, says: "Nick Clegg's scapegoating of immigrants is his most unforgiveable Tory collaboration yet."
Got something you want to share? Please send any stories/tips/quotes/pix/plugs/gossip to Mehdi Hasan (mehdi.hasan@huffingtonpost.com) or Ned Simons (ned.simons@huffingtonpost.com). You can also follow us on Twitter: @mehdirhasan, @nedsimons and @huffpostukpol